Ebley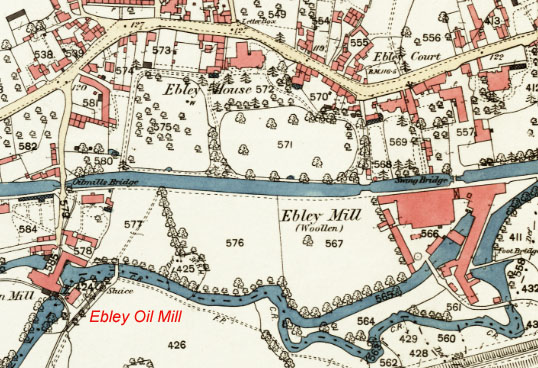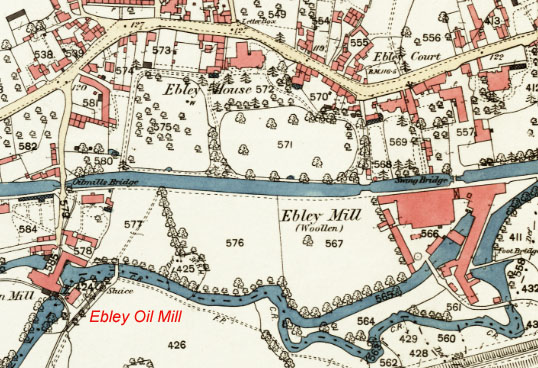 Ebley extends along the main road past two important mills - Ebley Oil Mill and Ebley Mill.
Ebley Oil Mill originally crushed seeds to produce oil and later served as a corn mill. The map shows a narrow-gauge tramroad from the mill to the canal-side and a later standard gauge siding off the Stonehouse & Nailsworth Railway to the south. The Oil Mill building is now used to make artificial snow. For Ebley Mill, click here.
On the north side of the canal, there was a mixture of industries and fine houses, including Ebley Saw Mill and Ebley Iron Works (off map to west), Ebley House, Vale House and Ebley Court (north of Ebley Mill). Most of this area has been comprehesively redeveloped, although Ebley House survives after a period as a National Children's Home.
Ebley Bridge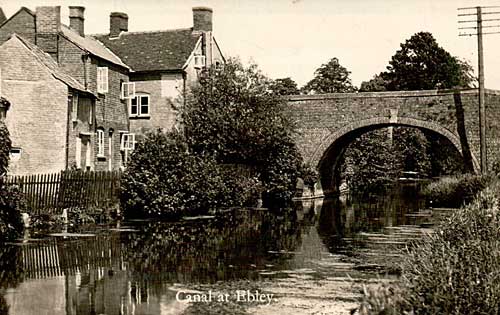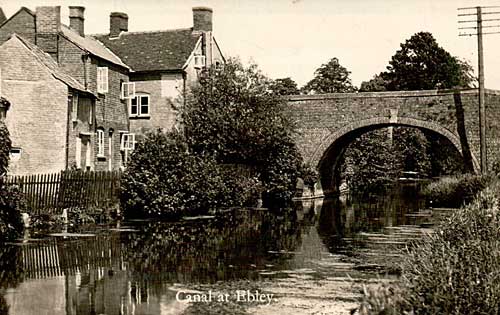 Now known as Oil Mill Bridge, this traditional humpback canal bridge was originally the only access to the Oil Mill and other properties between the canal and the River Frome. The abutments survive, but now with a lower crossing after a lorry became stuck when trying to cross the original hump. The tall building beside the bridge was the Bell public house.
Telegraph Pole
Telegraph poles were once a common feature of the canal landscape, and one has been preserved beside to the towpath east of Ebley Bridge. The pole is believed to be part of an early link between Stroud and Stonehouse established by the National Telephone Company in 1895/96.