Dock Lock and Maintenance Yard
This lock took its name from the nearby dry dock in the Stroudwater Company's maintenance yard. (For sources, see end of page.)
Dock Lock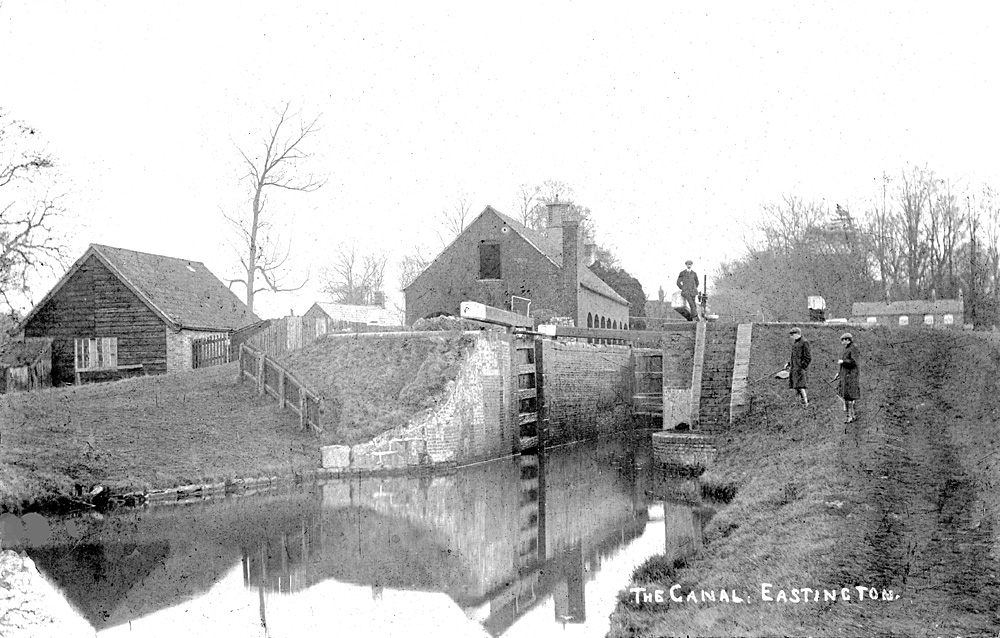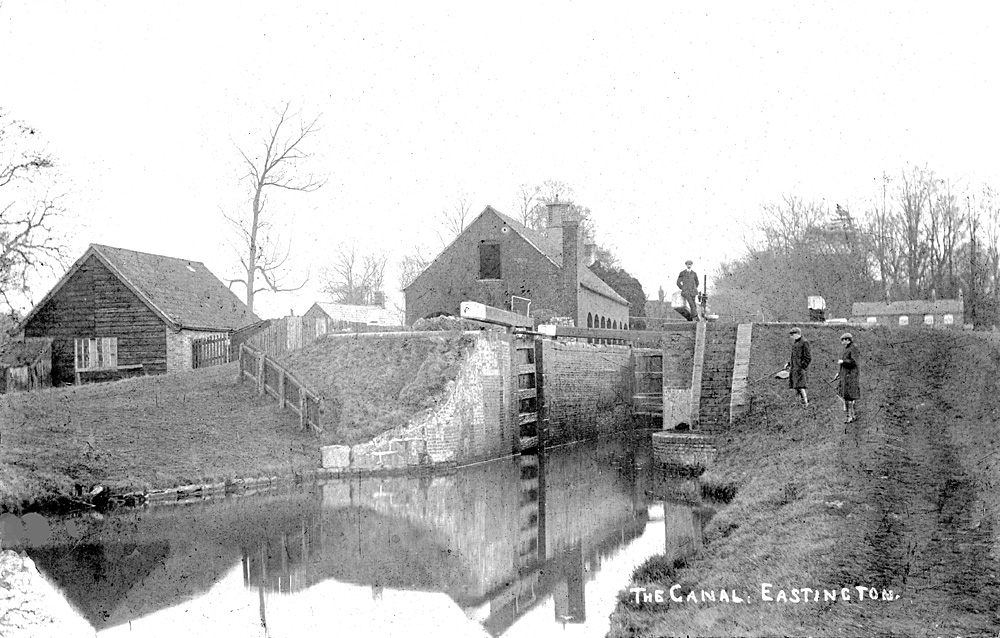 Completed in 1778, this is the second in a flight of five locks that carried the Stroudwater Canal up the hill past the village of Eastington, and it is the deepest. (Note the steep steps to the right of the picture.) (For more about building the five locks, visit Building the Eastington Flight).
It was originally known as Court Orchard Lock after the field in which it was built. The name changed after a covered dry dock was built alongside the lock in 1821 (in centre of picture).
After the canal was closed in 1954, the lock gates were replaced by a concrete dam to maintain water levels suitable for anglers. Later much of the debris from the demolition of Pike Bridge was dumped into the lock, making life very difficult for the volunteers restoring the lock in the early 1990s.
Maintenance Yard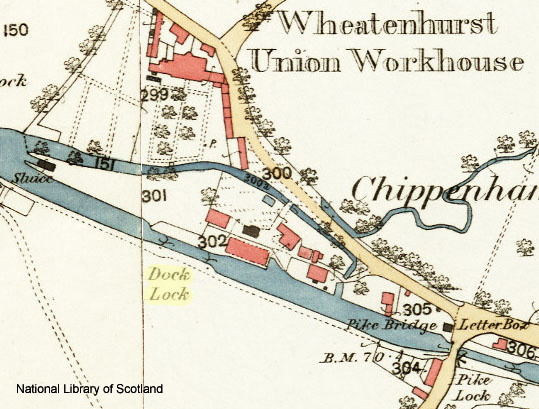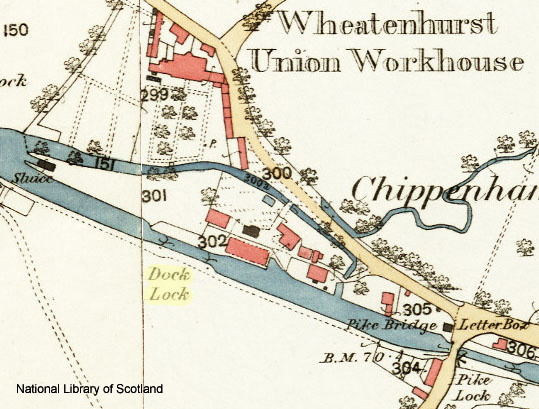 The Company's maintenance yard developed on land between the canal and the Oldbury Brook. The dry dock was covered by a building with open arches facing the canal and a small clock tower at the east end. There was also a timber store, a carpenter's shop, a blacksmith's forge, a saw pit and a house for the man in charge.
To the east, water from the spill weir of the pound above the lock flowed via an open channel into the Oldbury Brook. This channel will be replaced by a new structure already built on the towpath side. At the western tip of the 'Island' was a boat house where the Company's ice boat was kept when not in use.
In 1871, during the rebuilding of the nearby Nupend Baptist Chapel, the timber store (which still survives) was regularly used for divine service and for a special tea party after the laying of the new chapel's foundation stone.
Dock House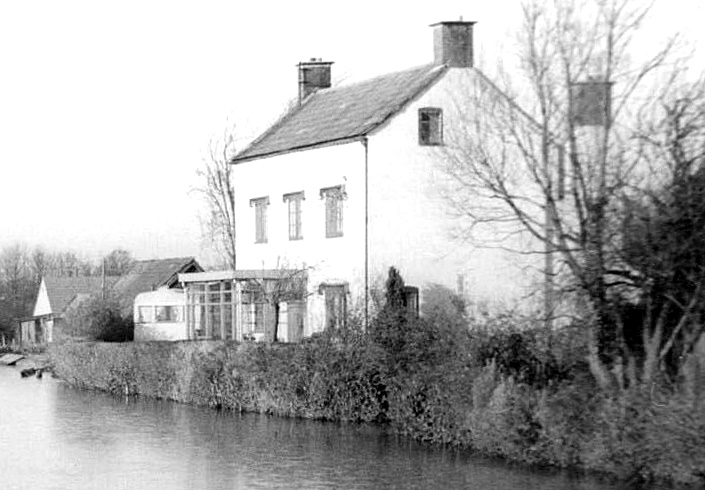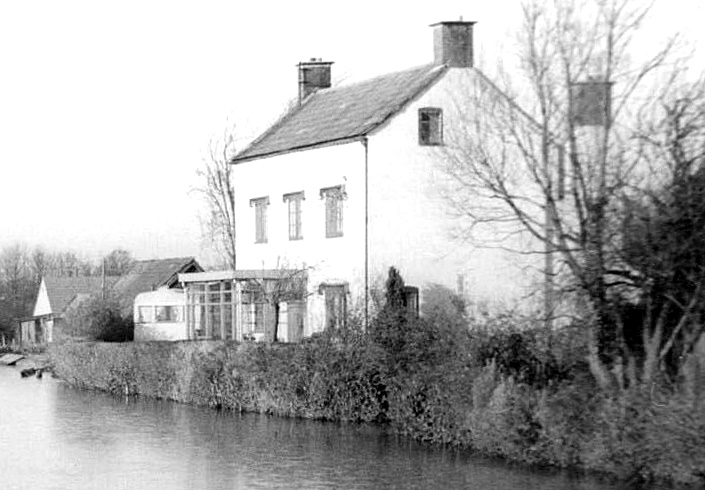 Sometimes called Canal House, the house facing the canal was built in 1807 for the man in charge of the maintenance team. In the early days, the occupant was usually described as a surveyor, carpenter or foreman.
From 1892, however, as Company finances were under growing pressure, the house was made available to whoever would pay the rent. After the canal closed, the house was sold to a private owner in 1956.
Sources
For lock completion date, work was still 'in progress' in Jan 1778 - D1180/1/1 p183.
For building the dry dock, see D1180/2/2 23 Dec 1820 to 16 Feb 1821.
For the unusual use of the timber store in 1871, see Stroud Journal 13 May 1871.
For restoration of Dock Lock, see Trow Archive Sep 1989 to Dec 1994.
For building Dock House, see D1180/1/3 p62.