Framilode Lock and Basin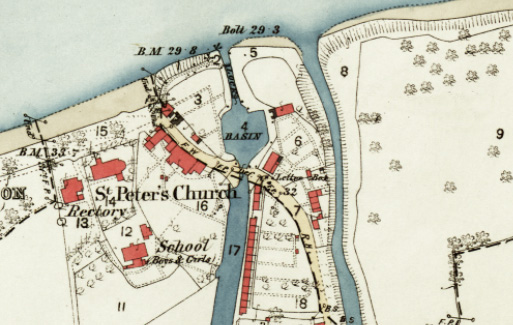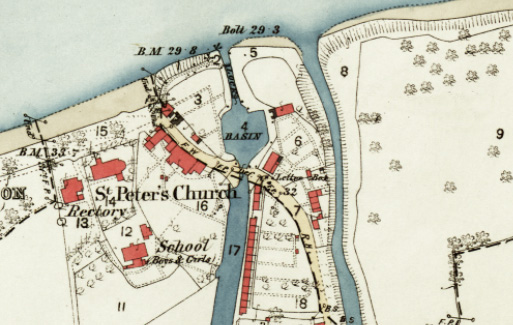 The entrance to the Stroudwater Canal from the River Severn at Framilode was close to the mouth of the River Frome which had long been a haven for trading vessels.
Initially, there was just a lock that could be used by vessels around the time of high tide on most days, although not for the lowest neap tides. The Basin was added later.
The Stroudwater Company built a house beside the bridge for their lock-keeper and toll clerk, and they also owned other houses nearby. The long row of houses backing on to the towpath was built by the owner of nearby Framilode Mill which produced tin plate and other metal products until it closed in the 1830s. Further south along the towpath were two beer houses, both being well placed to serve bargemen who had arrived from a trip on the Severn or were waiting to leave the canal at high tide.
Framilode Basin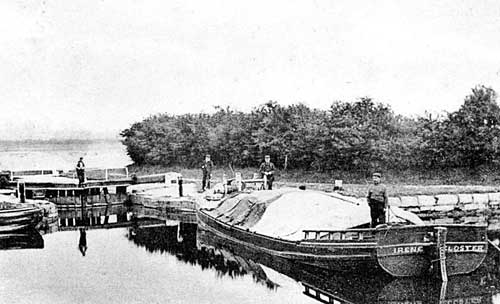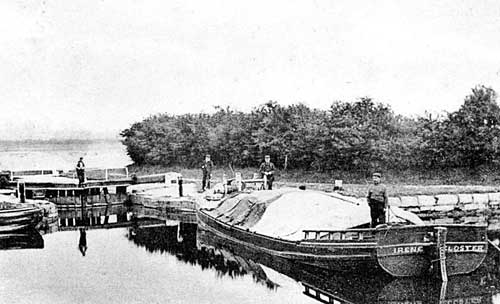 The basin was built in the 1790s, partly paid for by the Thames & Severn Canal Co, to provide space for vessels bringing Newport coal to transship into local barges that could continue up to Brimscombe and beyond. Also, a warehouse was built beside the basin for storing dry cargoes, although it seems that little such traffic developed.
The image shows the barge Irene waiting for the lock keeper to open the gates when the tide in the river reached the right level. She appears to be carrying a cargo of grain loaded at Sharpness for delivery to the mill at Lower Framilode, half a mile down river.
Since 1954, this basin has been filled in and the area is a private garden.