Saul Junction
At Saul Junction, the Stroudwater Canal (running from north-west to south-east) is crossed by what is now known as the Gloucester & Sharpness Canal - a unique crossing of two independently owned canals.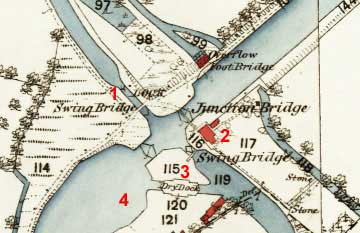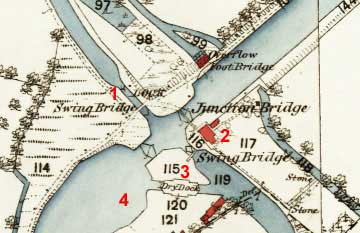 To form the Junction in the 1820s, the level of the Stroudwater Canal had to be raised about five feet by building a new lock (1), and gates were provided to minimise water loss when levels did not match. Opening bridges carried the towpath of each canal over the other.
The house at the Junction (2) was occupied by the official who opened the bridges and collected some tolls. To the south was a dry dock and boat repair yard (3). The basin south-west of the Junction (4) was used occasionally as a transshipment point for transferring cargoes from large vessels to barges and narrowboats that could pass up the Stroudwater Canal.
Missing Mail
In 1880, the Stroudwater Company manager learned that letters to his toll clerk at Saul Junction were then being delivered to Sandfield Bridge, further down the Gloucester & Berkeley Canal, as the postman's route had been changed at the request of William Clegram, the Gloucester Company's engineer who lived nearby. It took several letters to the postal authorities to get the matter resolved. (Source: D1180/9/6 p13)