Building the Canal
A plan to make the River Frome navigable from Framilode on the River Severn to Wallbridge, Stroud, was authorised by Act of Parliament in 1730. Commissioners were appointed to oversee the project, but construction work did not start due to opposition from mill owners who feared there would be less water to power their mills. In an attempt to avoid such opposition, the Company of Proprietors was set up in 1774, under the authority of the earlier Act, with a remit to build a canal largely separate from the River Frome, and a new survey was made.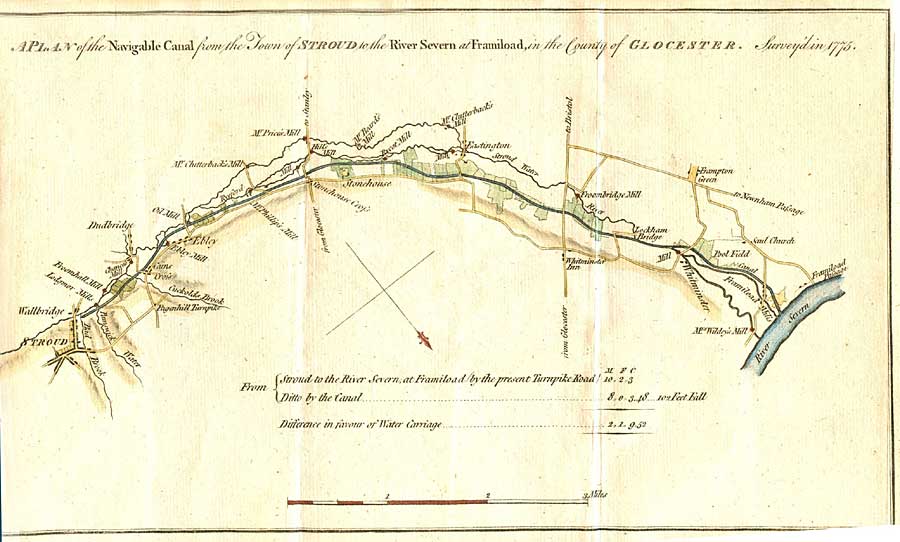 When work started, however, the project met strong opposition again, and work had to stop as the earlier Act only authorised making the river navigable (not a new canal). An Act amending the 1730 Act was therefore obtained in 1776 to authorise building the planned canal, and this allowed the project to go ahead, although the eventual line was slightly different to the plan.
Building Work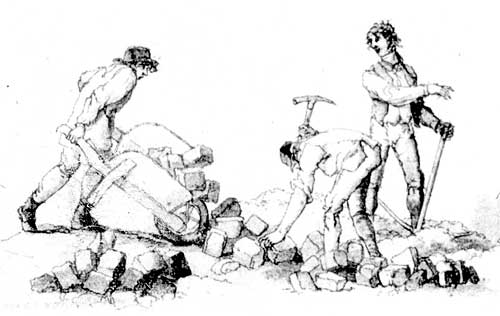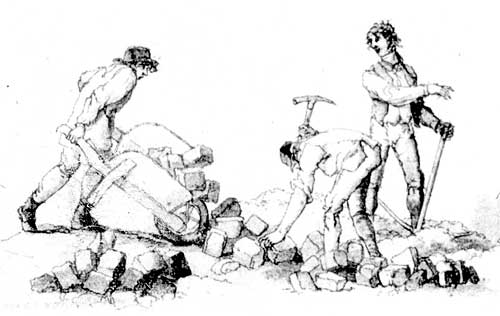 The project was run by an elected Committee of local shareholders (known as proprietors) who employed a Surveyor to oversee the work and a Clerk to make the payments. The Committee agreed the purchase of the many separate pieces of land needed, and they approved contracts for the supply of materials, craftsmen and labourers. Employed initially as Clerk, Benjamin Grazebrook also took a close interest in practical matters, and he eventually took over the surveyor's role as well.
The canal was dug by gangs of navvies using picks, spades and wheelbarrows. Bricks for the locks and bridges were made in temporary kilns from clay found nearby, and timber for the lock gates and stone where needed were shipped in along the canal as far as it had been completed. For a note about brick making along the Stroudwater Canal, read Brick Making.
Canal Open
The canal was formally opened on 21 July 1779, and barges started to bring coal and other goods to Stroud at a much reduced cost. As toll income grew, the Company was able to spend money on improving some structures and providing houses for some of its employees.
For a detailed account of the work involved in planning and building the canal (based on a wide range of sources), see The Stroudwater Canal by Michael Handford (1979).
Relevant Archives
Information about Building the Canal can be found by searching the Minute Book pages in the Archives section of this website. Additionally, a list of relevant documents that can be consulted at Gloucestershire Archives can be found in the Subject Listings page under the heading Building the Canal.
Found in the Archive
In April 1777, Mr Bough recommended making 500,000 bricks at or near Bonds Mill for the use of the bridge and locks between there and Chippenham Platt. (D1180/1/1 p125)