Operation and Maintenance
Keeping the canal running smoothly was the job of lock keepers, wharfingers and maintenance men employed by the Stroudwater Company.
Lock Keepers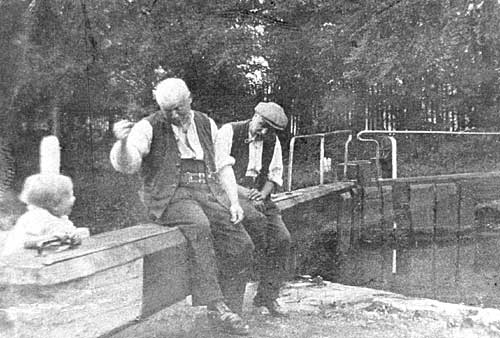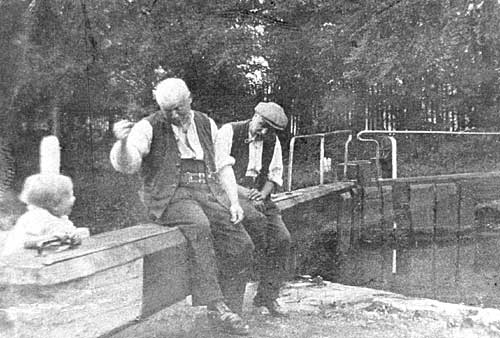 Lock keepers lived in Company houses at Framilode, Eastington, Ryeford and Dudbridge. They were responsible for managing water levels, looking after their own length of canal and reporting any breaches of the bye-laws. Most also joined in with the general work of the maintenance team as required. They were not expected to work the locks as this was done by the vessel crews. The lock keeper at Framilode was required to attend the lock at high tide times, to record vessels and their cargoes passing through and to collect tolls from those not going beyond Ebley. The image shows John White (right) at Pike Lock, Eastington.
Wharfingers
At busy wharfs, the Company employed wharfingers to record cargoes handled, to collect wharfage and cranage fees when appropriate and to supervise the spaces allocated to various users. In the early days, some wharfingers also sold coal on behalf of the Company.
Maintenance Team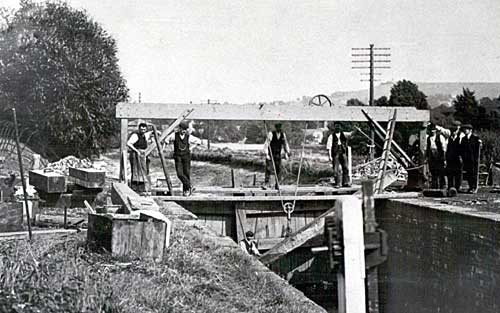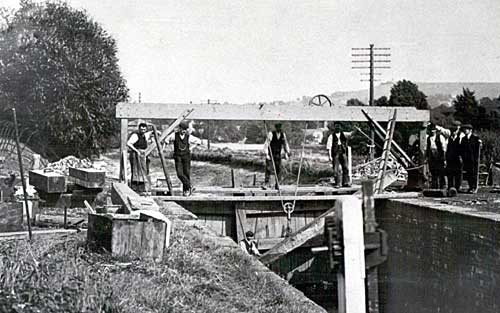 The maintenance team based at Chippenham Platt, Eastington, usually comprised a carpenter and three or four labourers, some of whom were also lock keepers, and they could call on help from local blacksmiths, masons and sawyers when required. During a planned stoppage, many additional labourers and craftsmen were employed. The image shows the team installing new top gates at Ryeford Double Lock in 1907.
Routine maintenance work for labourers included dredging mud, clearing weeds (reeds), repairing the canal bank, stoning the towing path and ice breaking in the winter. The resident carpenter could be called upon to do anything from making and installing new lock gates and paddle gear to repairing towpath gates and Company buildings. Visiting masons and bricklayers repaired lock and bridge structures, and visiting shipwrights repaired the Company's maintenance craft.
Relevant Archives
Information about Operation and Maintenance during the operational period up to 1941 can be found by searching the Minute Book and Letter Book pages in the Archives section of this website. Additionally, a list of relevant documents that can be consulted at Gloucestershire Archives can be found in the Subject Listings page under the heading Operation and Maintenance.
Found in the Archive
In 1838, it was found that at Blunder and Pike Locks, the roots of the poplars planted on the Leaze Ground had penetrated through the puddle bank into the masonry and had entered the lasher holes, requiring the gates to be unhung and the roots cut off. (D1180/1/4 p153)