Shares and Shareholders
The construction of the Stroudwater Canal was financed by selling shares to members of the public, who were later paid dividends when the Company was making a profit. The shareholders were originally known as proprietors.
Shares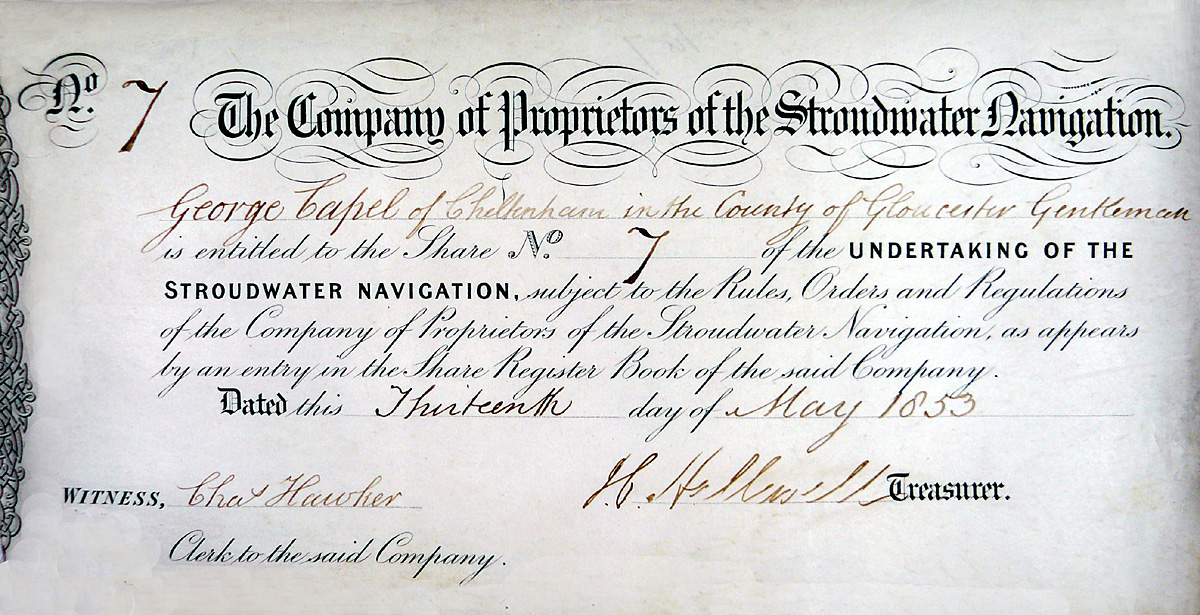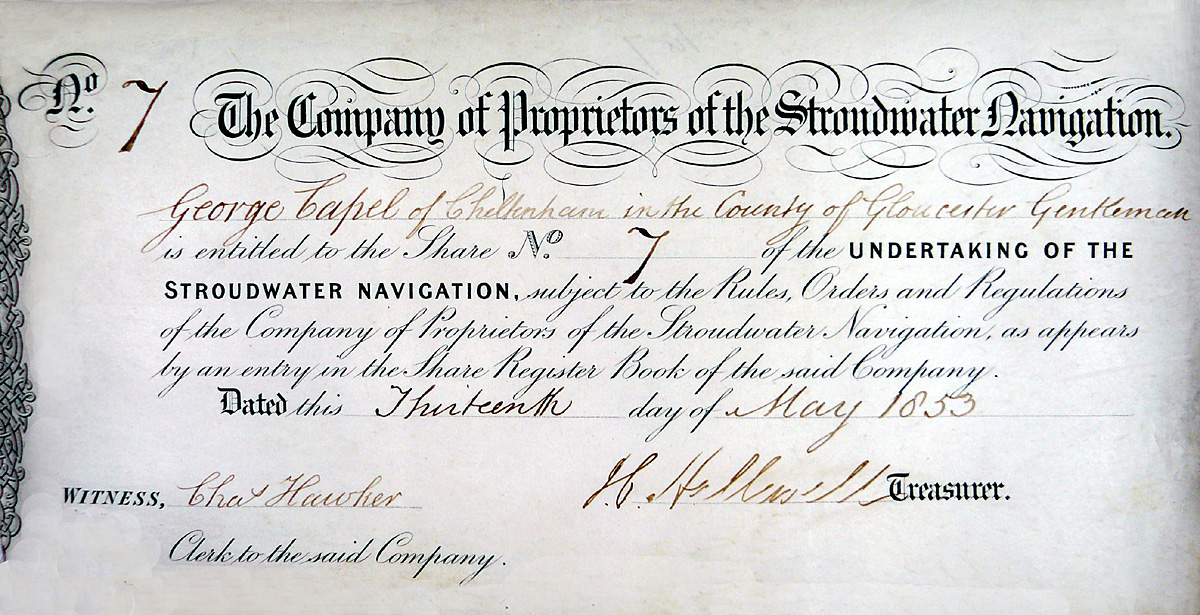 When planning to build the canal from Framilode to Stroud in 1774, the promoters needed to raise £20,000, the estimated cost of the canal. Initially, 200 shareholders each paid £100 per share in stages as construction proceeded and they received individually numbered share certificates. Three years later, it was realised that more money would be needed, and they paid a further £50 per share in stages. To finish the construction, further money was borrowed from some shareholders and was soon repaid once the canal was operating. For lists of shareholders, visit Share Registers.
Share Transfers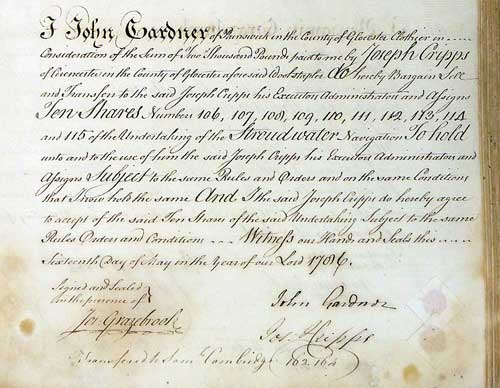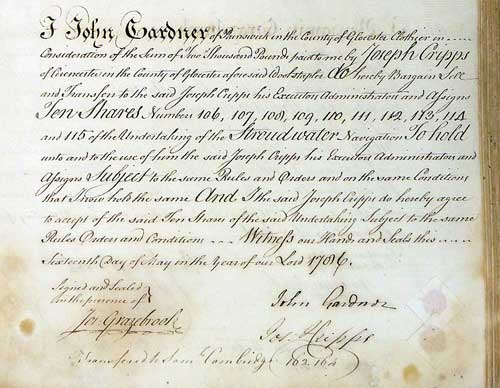 When a share changed hands, the old certificate was returned for cancellation, and a new one was issued bearing the new owner's name. When shares were sold, details of the transaction, including the price paid, were recorded in a share transfer register using a legal form of words that was signed and sealed by both parties and witnessed by the Company Clerk. A duplicate register, without signatures or seals, was kept in a different location for security. When a share was passing direct to a descendant after a death, documents supporting the claim were considered by the Committee and, if approved, a note was added to the previous entry in the share transfer register or in a separate note at the beginning or end of the register.
Dividends
The first dividend was paid in November 1785. Subsequent dividends were distributed after each half-yearly general meeting to those on the share register at that time. Early surviving receipts show that many dividends were collected in cash at the meeting; otherwise months could pass before payments were completed.
Relevant Archive Material
Information about Shares and Shareholders during the operational period up to 1941 can be found by searching the Minute Book and Letter Book pages in the Archives section of this website. Additionally, a list of relevant documents that can be consulted at Gloucestershire Archives can be found in the Subject Listings page under the heading Shares and Shareholders. Jane Bethell's analysis of the 2500+ share transactions recorded in these documents has beeen summarized in date order, by share number and by purchaser's name. Guidance on how to interpret these files is given in Other Documents.
Found in the Archive
The Company was so successful in the early years that several shares changed hands in 1823 and again in 1834 for £550, over three and a half times the original cost, but ten years later the price had dropped to £300 due to railway competition. (D1180/3/...)