Carpentry for Canal, Church and Theatre
Nick Brojer highlights a link between a canal builder and an old Stroud building.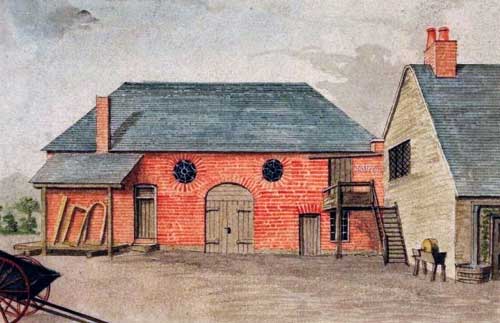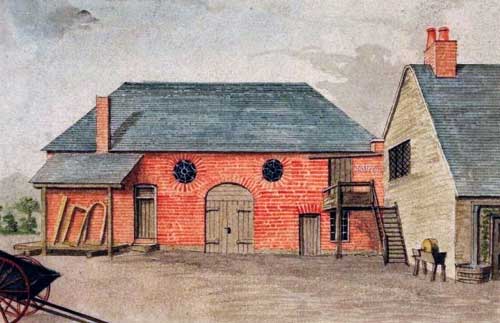 Edward Keene was a carpenter who picked up major contracts during the construction of the Stroudwater Canal and later adapted his workshops for theatrical performances. Edward had learned his trade from his father, and they worked together making pews for St Lawrence church in 1768. His father died in 1775, just at the time the construction of the Stroudwater Canal offered exciting new opportunities. Another to benefit at this time was Thomas Howell, full-time blacksmith for the Canal Company, whose son Thomas married Edward's daughter Sarah.
Entries in the Canal Company's records show the types of work that Edward was involved with:
making wheelbarrows for the start of the Stroudwater Canal (June 1775),
making an elm trunk to carry the Painswick Water under the canal (1777),
100 more wheelbarrows ordered,
examining timber at Broad Oak, Blakeley, Monmouth & Newnham,
building wooden swing bridges at Fromehall, Ebley and elsewhere,
completing joinery in a company house and a warehouse,
building wooden culverts for the river at Fromehall and near Lockham Bridge,
making a board of rules for erection at Bristol Road Wharf.
These jobs must have been a great addition to the rest of his carpentry and cabinet-making work, but they will have steadied after a peak once canal construction was completed.
Meanwhile, in the unrelated world of Theatre, in 1788 an Act of Parliament was passed allowing companies legally to give performances of plays in one place for up to 60 days at a stretch. Previously this happened anyway but illicitly, and the new law led to managers investing in purpose-built theatres - but not in Stroud.
However, our Edward had decent-sized workshops behind his house on the High Street, and what is now Bedford Street was then only a private passage-way to his workshops. Using his carpentry skills [remember the church pews] the workshops were often fitted up for theatrical representations. These included comedians, a tight-ropewalker and, most famously, the top actor of the day Edmund Kean [spelt differently], who married Miss Mary Chambres, a member of the Stroud company, who lodged in the house of Mr & Mrs Thornton at the end of Church Street.
In 1805 James Winston, calling himself 'The Theatric Tourist' painted dozens of theatres around the country including Cirencester, Cheltenham, Tewkesbury, Worcester, Oxford. He also painted the picture above called 'Stroud Theatre' but looking much more like the carpenter's workshop that it also still was. The round windows can still be seen down an alley opposite Simpson's Fish & Chips.
Edward Keene died in 1817, but his workshops continued as a playhouse at least until 1839 and are shown on a map of that date. Edward had rebuilt the house on the High Street as a handsome shop and the 'theatre' building was for three or four years used as a place of worship by Primitive Methodists. Afterwards it became the magistrates' office and in 1867 it was an attorney's office and the shop and cellars of a wine merchant.
Find out more by reading: "Notes & Recollections of Stroud" by John Hawkins Fisher and "The Stroudwater Canal" by Michael Handford.