Framilode Lock Keepers
Pam Daw identifies the men who supervised the Stroudwater entrance lock at Framilode and highlights their duties as recorded in the Company's minute books.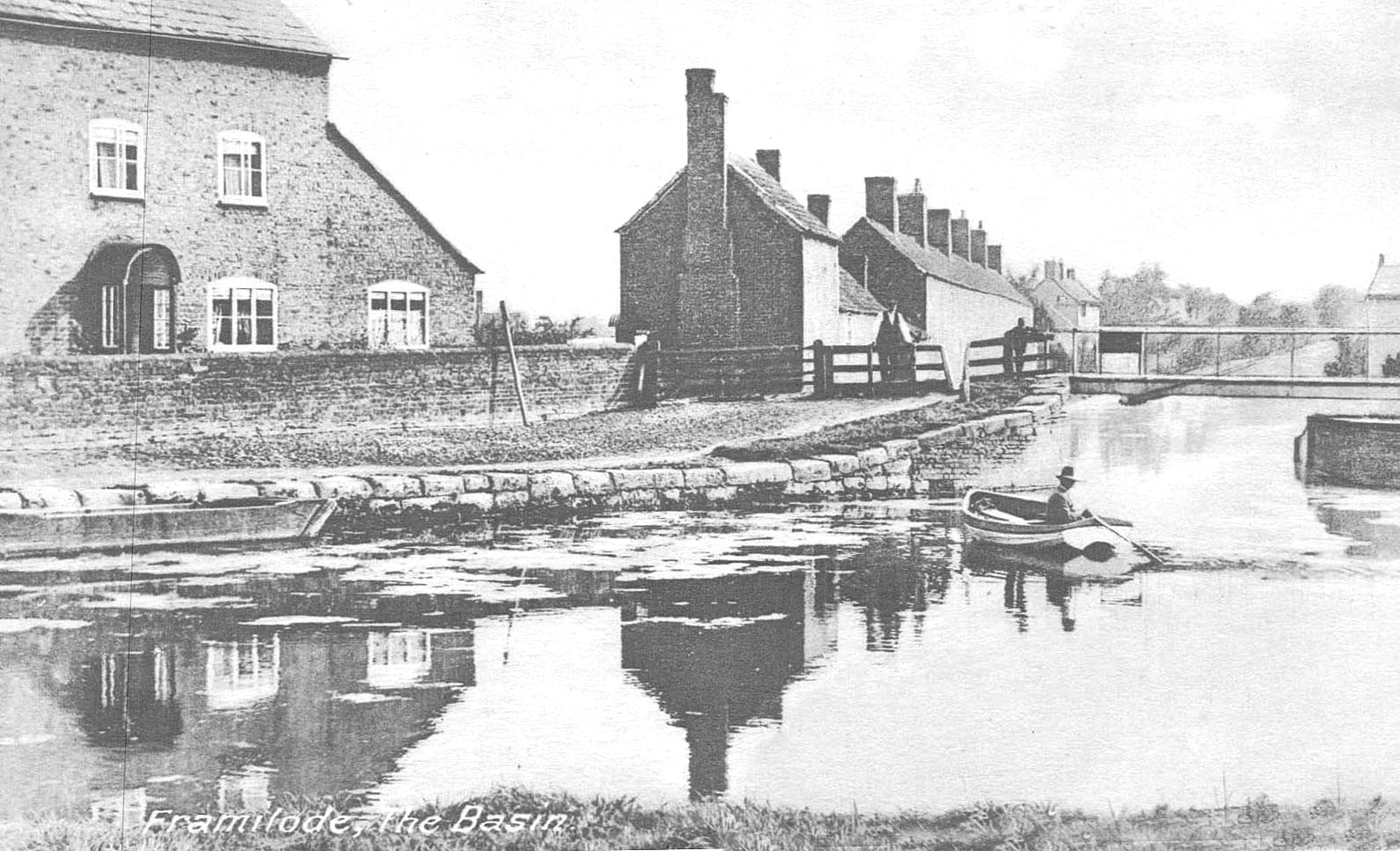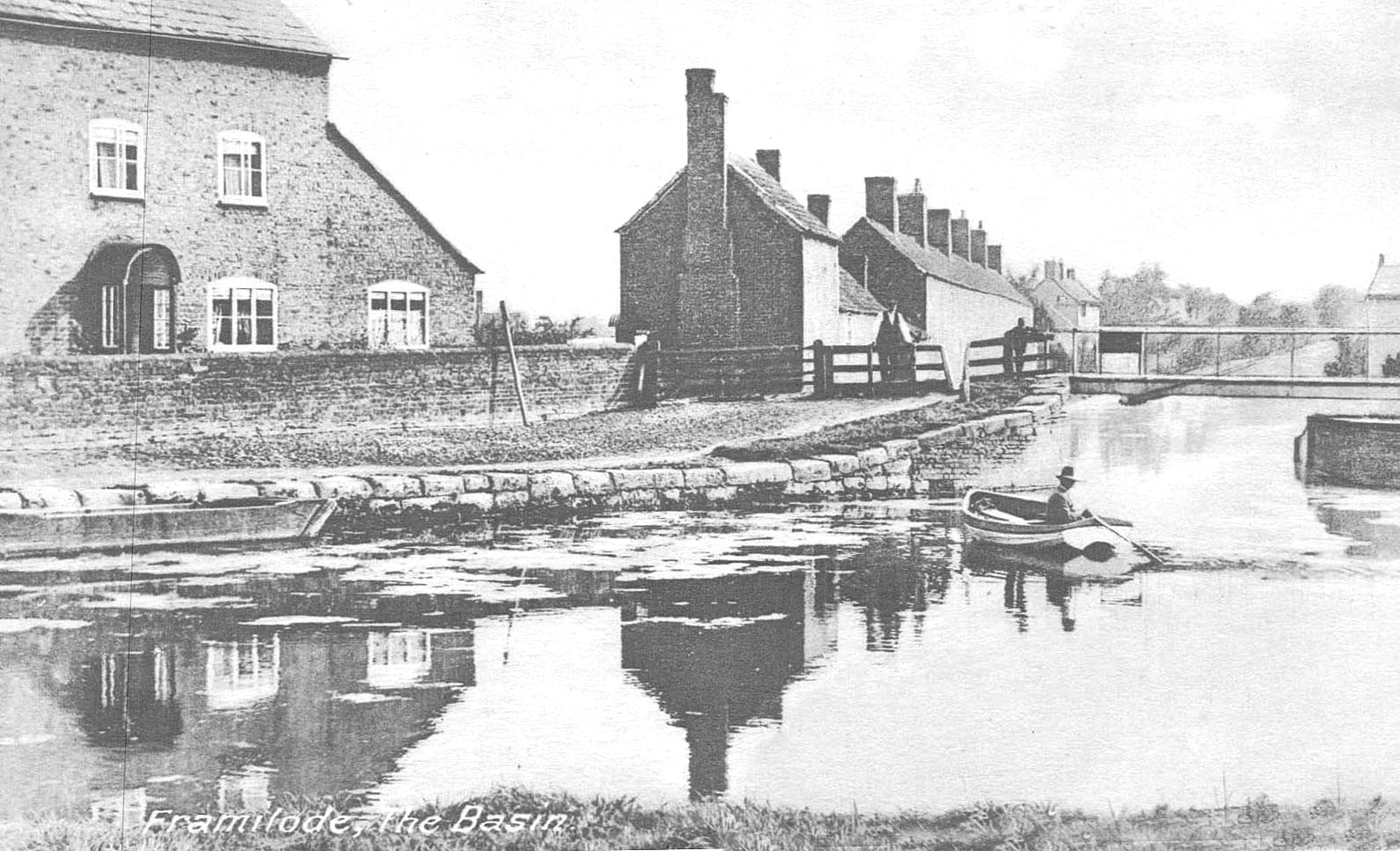 The basic role of the lock keeper (or tidesman) was to attend the lock around the time of high water each day, to ensure boatmen followed the Company's bye laws and to patrol the local length of canal regularly to check that everything was in good order. For many years, he also had to collect tolls from those vessels that were not going beyond Ebley, but from 1869 this role was carried out by a toll collector at Saul Junction. As the Stroudwater Company's only employee at Framilode, he was often given other duties such as collecting rents from other tenants at Framilode. The early lock keepers lived in one of the cottages acquired by the Company when they bought the land for Framilode Basin. A new lock house was built in 1815.
John and Benjamin Pashley
Their names appears in minutes of a meeting of the Stroudwater Committee of 22nd September 1777 when it was reported that Benjamin Pashley was to be given charge of Framilode Lock in place of his father John Pashley who was primarily employed as a carpenter. In October 1780, Benjamin Pashley was taking care of Framilode Lock and Whitminster Lock and attending the passing of every vessel through them. He was also culpable for any damage. His wages were £10 a year paid to him quarterly, together with the Manor House and orchard where he then lived. In October 1782, accounts owed him by the company totalled £65 12 shillings and sixpence and were due to be paid. Four months later in early February, Benjamin Pashley died.
As there was no proper person for Framilode Lock, it was decided that John Pashley should take care of the locks for the time being. (This was probably Benjamin's father, although it is possible Benjamin had a brother or son named John). In April 1795 Mr John Pashley, lock keeper at Framilode Basin was allowed a salary of £20 and his house rent. His duties included attending the lock, passing tickets, attending stop gates, a warehouse and a wharf.
Meanwhile in 1788 Samuel Bayliss was appointed second clerk to handle the toll money at Framilode for a period on condition that he paid attention to the interests of the company. By 1794 he was not working to the satisfaction of his employers, consequently he was admonished by them in 1796. Mr. Pashley and Mr. Bayliss the second clerk were both dismissed in April 1797. Another capable clerk had to be found to live in the house occupied by Mr Pashley at Framilode from the 1st of July but Mr Pashley had not found another house by August. The company would therefore have to remove him and his possessions although he was willing for the new employee and family to move into a room above stairs and have joint use of the kitchen.
William Smith
William Smith of Newent became under-clerk at Framilode with a salary of £8 per quarter. He became indisposed and unable to do his work by November 1798. During his illness Thomas Beard was performing the duties for him on the lower district of the canal and was also receiving tonnage. William Smith was dismissed on 1st March 1799.
William Pavey
William Pavey replaced Mr Smith receiving the same terms (£32 a year), a tenement and a garden. On 10th April 1809, William Pavey drowned in the canal. Another man was needed.
Barnett or Barnard Hole
This man replaced Mr Pavey in 1809 with a salary of £40 a year, a house and a garden. He was instructed to devote his whole time to the company's business. Two years later, it was discovered that he had become addicted to drink and was neglecting his duties. By February 1813, he was dead and there was proof left in his house that showed he had not accounted for a considerable amount of tonnage.
Thomas Beard
He took over Hole's work but in order to do so, was obliged to take up a £200 bond with William Bight. In April 1814, the Company decided that if a new house could not be found for Mr. Beard, the old house would be repaired. He was allowed writing paper for company use and expected to be a loyal worker. He had to charge 1 shilling and 8 pence for every boat that came into the canal that did not discharge cargo from 1st April to 1st November. In winter such boats were able to pass free. He had to ensure that the owner of a boat or the steersmen, had the boat's name displayed on it. Failure to do so resulted in a £5 fine, as per an Act of Parliament. This ruling caused a lot of trouble between lock keeper and boat crew.

Thirteen months later a decision was taken to build a new lock keeper's house at Framilode. It would be built from materials of the house that John Longney had been living in. John Longney would be rehoused in the company's warehouse where a fireplace and chimney would be erected and glass put in the windows. The arrangement was intended to last until the new lock keeper's house was ready. That summer of 1814, Thomas Beard the lock keeper, had not been paying over monies to the chief clerk and others. He confessed to receiving certain other forms that should have gone to the company's accounts. The company dismissed him and he was obliged to quit the house he had lived in.
William Purcell
William Purcell, was appointed lock keeper at Framilode in June 1814. Fraud and embezzlement had happened elsewhere in the company. George Hawker was appointed new Chief Clerk at Wallbridge at the same time as Mr Purcell, with a salary of £120 and it would be increased to £160 within three years. George Hawker provided William Purcell with a new journal and tonnage papers. Both men had bonds drawn up for them and the future appeared more secure than formerly.
William Purcell's salary was £65 a year payable to him quarterly. Rent for his house was £5 a year, he had a garden and later he was able to rent an extra piece of ground for thirty shillings. Thomas Beard had left vegetables in the garden for which he would be paid. The new house for Mr Purcell was ordered to be erected in June 1815. Mr Purcell married and settled down to his demanding occupation.
Every Sunday morning, he had to put in flood gates at the Mill in Whitminster in order that the levels below Bristol Road were supplied. It was his duty to walk the levels as far as Stonehouse every day between tides. He had to ensure against frauds by persons and to deal with boat crews, it was not always easy for him. The committee expected him to attend every committee meeting, and his 'check' book had to be regularly kept up to date. Unless regular entries of all vessels on the canal were made, he knew he could be dismissed. He was responsible also for receiving Sam Lawrence's rent for a tenement and passing it to the company treasurer. In April 1821, his salary was raised to £80, and George Hawker's was raised to £200 for long and faithful service.
Mr Purcell had to distribute printed fines and bylaws to masters or owners of every vessel that entered the canal. The boatmen were not always pleasant about such things but Mr Purcell and a colleague received an extra £5 each in 1824 for discovering fraud and bringing about prosecutions. He may have been pleased when his pantry was converted to a brewhouse and his brewhouse became his pantry. Every night and on Sundays, the locks had to be locked at night, it was strictly enforced. By January 1834, for performance of duty, he was commended and a new bond issued to him jointly with Mr. John Holbrow. His salary continued unchanged. Ten months later, William Purcell approached his employers with a proposal for him to have a dock made off the canal and close to Framilode where vessels could be repaired. It was an idea that local vessel owners had suggested in 1809 and indeed was mooted earlier by Clowes, engineer on the Thames and Severn canal. The company's response was that although it was obliged to him, it had no desire for such a facility at that time. It was years later that the company built their own dry dock at Chippenham Platt.
In 1836, a boatman named Bosley, lodged a complaint about Mr. Purcell to the company. When the clerk-lock keeper gave his explanation of the incident, another boat owner, John Knight, heard what Mr. Purcell said and confirmed that he felt fully justified with Mr. Purcell's reasoning.
In April 1840 when William Purcell had given the company 26 years' service, a new man arrived at Framilode. He had risen through the company and had been a lock keeper much earlier at Dudbridge and at the Double Locks at Ryeford. He was former Inspector John Burbidge, then known as Superintendent Burbidge, who was to replace Mr. Purcell, whose service would end the following March. Mr. Edward Wood Mason of Painswick, was appointed surveyor at an annual salary of £120 and was made responsible for removing monies from William Purcell to be paid to the chief clerk as soon as received. Mr. Holbrow remained surety for Mr. Purcell, who was repaid £3 for trees he had planted at Framilode.
John Burbidge
In 1848, Mr. Driver, who had been appointed surveyor in 1846, suspected fraud at Framilode Lock which resulted in Mr. Burbidge agreeing to checks being made on the quantity of coal being landed there. In the winter of 1850, all vessels had to produce Framilode tickets for paying tonnage and counter-signed by the surveyor Nathan Driver, specifying cargo discharging points between Framilode and Ryeford.
John Burbidge, clerk, and his family were at Framilode as per the 1851 Census, he was 60 years of age, born at North Piddington. His wife was born at Stonehouse, he had a son John a school teacher and there were young children of 9 and 5 years. It is believed John Burbidge had lost young children in very sad circumstances much earlier.
In 1854, the company sent him a letter as toll clerk advising him that all vessels leaving the Stroudwater Navigation had to be inspected in the same manner as incoming vessels.
In July 1859, the steam vessel Queen Esther owned by Ford Brothers, caused inconvenience at Framilode Lock because it was obstructing the navigation by being fastened to the lock.
By Christmas 1864, Burbidge was about 73 years old and he was told his services were not required after the 25th March next. He would have to give up the house and premises he occupied. Curiously, there was a stipulation from the company that his successor should not keep a shop or engage in any other business. At the next meeting he was given a gratuity of £5 and reminded to leave his place in good order.
Matthew Nathaniel Peyton
Matthew Peyton was from Haresfield and was appointed clerk at Framilode in 1865 with a salary of £60 a year and use of a garden. The new clerk/lock keeper at Framilode, was expected to fill his spare time as a carpenter and do any other duty required of him. He was a reliable employee. His working life was spent under the guidance of the respected senior clerk, (William) James Snape. They were paid quarterly, Peyton receiving £10 8s 0d and Snape £37 10s 0d. In 1869 the roll of toll clerk was moved from Framilode to Saul Junction as it was where most traffic was joining the canal so Matthew Peyton moved to the house at Saul Junction where he died in 1890.
Thomas Lewis
Thomas Lewis was occupying Framilode Lock House in 1871 after Matthew Peyton moved out. Snape sent orders to him by post and in 1872 requested him to collect rents due from Framilode tenants Elias Woore and Benjamin Gardiner, but not from Harmer or Rowles. A few days later he had to meet Harmer and Rowles and inform them that their rents had to be paid to avoid being summonsed. Rowles was soon to leave his company house and hand the key to Lewis. Soon Snape was reminding Lewis and 2 other lock keepers of their lock duties and about oiling paddles, care of lock gates etc. Lewis had to oil the Five Locks. Snape warned Lewis of the importance of correct water levels to avoid the canal flooding adjacent fields and informed him that he might have to find a replacement. By August 1873, Lewis was given a fortnight's notice to quit his job and notice to leave his cottage by 25th December.
Lewis was given more detailed job specifications and stayed with the company. One instruction from Snape, ordered Lewis to charge Mabbett 1s 8d for lockage at Framilode and if not, he was to pay the sum himself. The only exceptions to the rule were Pilot Boats which went in or out of the basin to fetch vessels. When there was a stoppage near Double Locks, Lewis was ordered with other lock keepers to be there at 5 a.m. and work all the week. When Mr Peyton was away from Saul in 1874, Lewis had to attend his bridge for him. Snape always addressed letters to Lewis as Framilode lock keeper until finally Lewis left in 1874.
Charles Saunders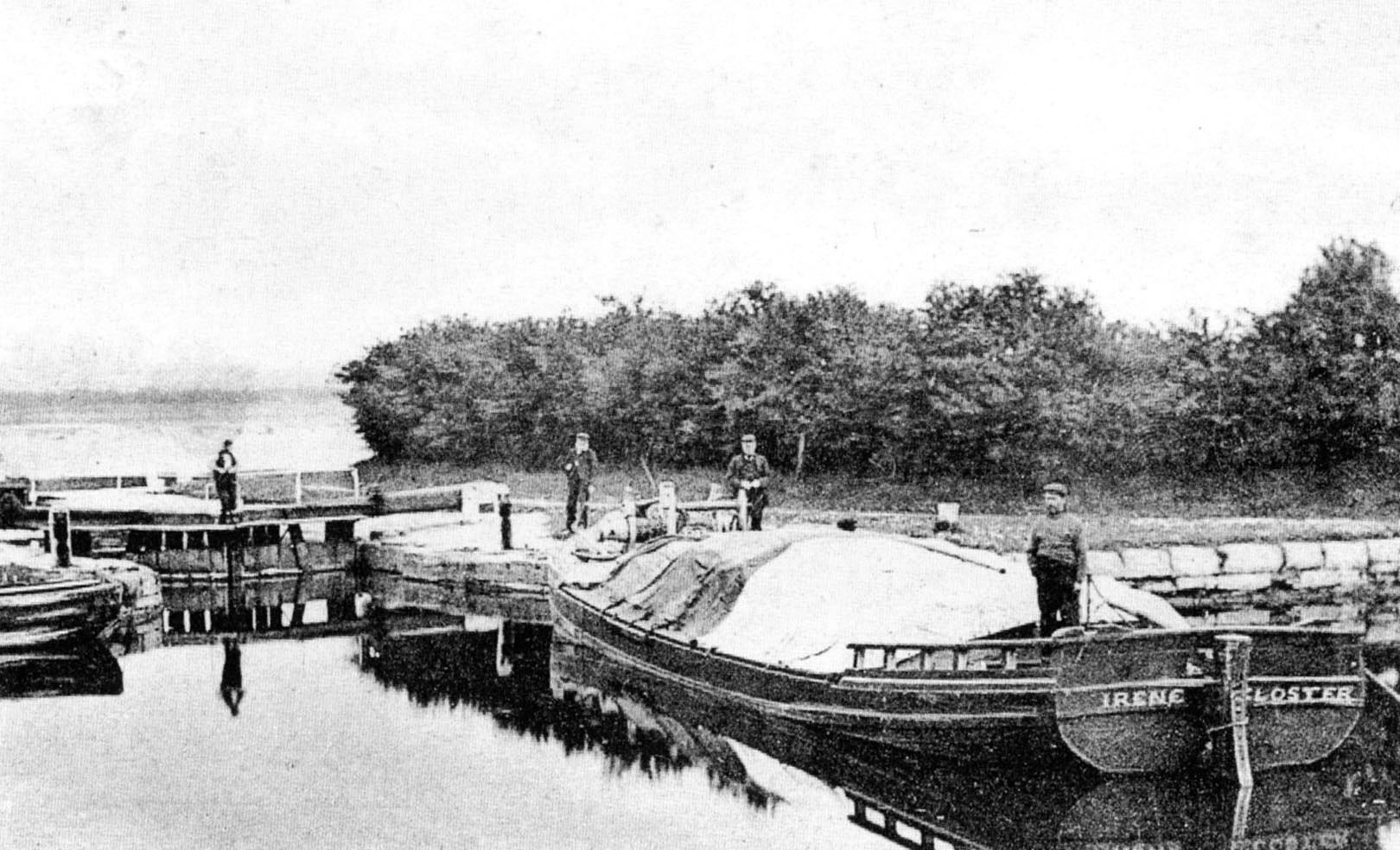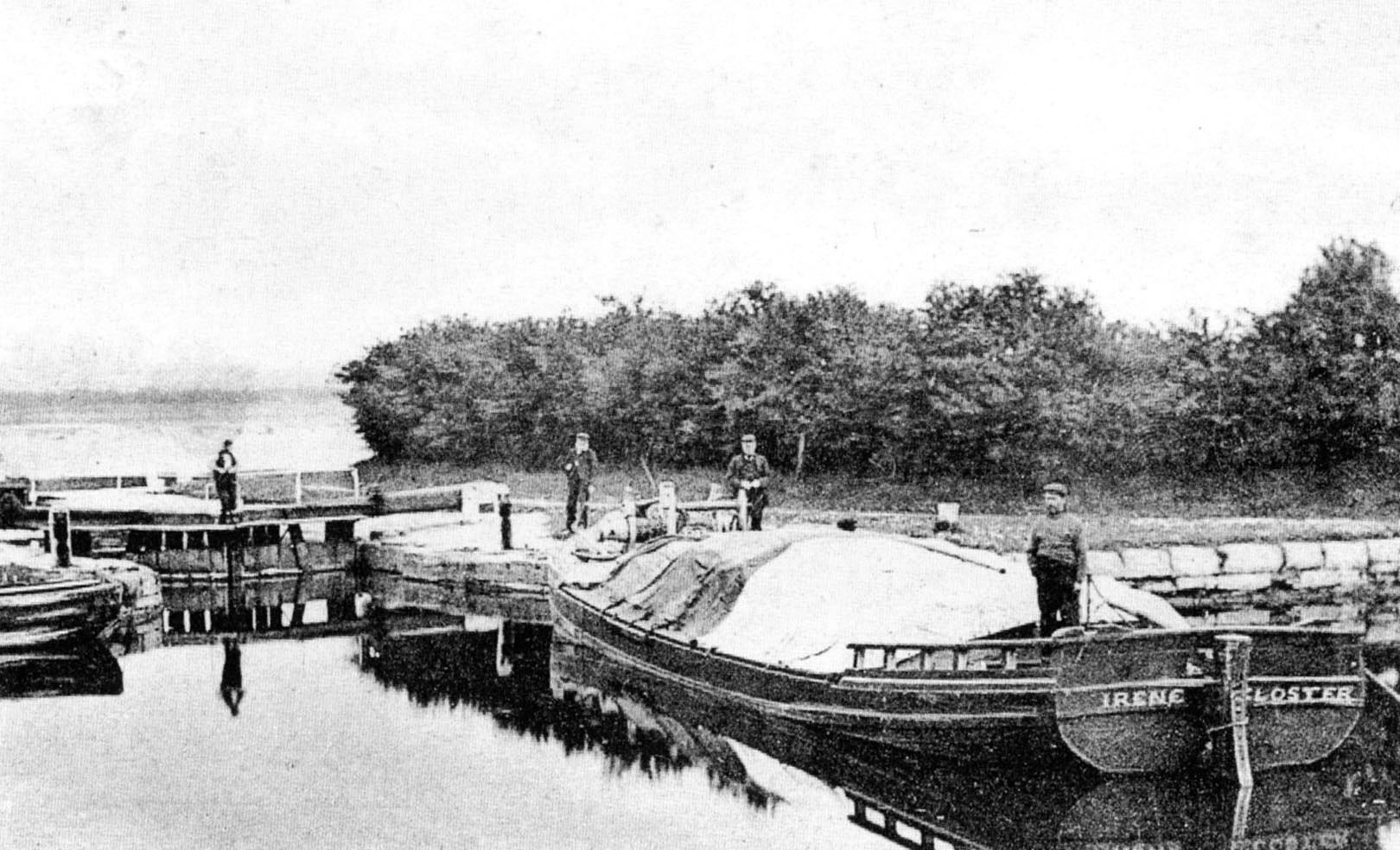 Charles Saunders was the next lock keeper and wharfinger appointed at Framilode. His name was first noted in 1876 when together with three other workmen, they were paid an advance of their wages by the canal foreman Henry Fallows, who was based at the works depot at Eastington. He received many instructions from Mr. Snape by Victorian penny post. Mr. Snape posted penny stamps to Mr. Saunders so he could return letters and advise that work had been done. Letters that have been preserved give a good interpretation of the continuation of work at Framilode and in the lower areas of the canal.
In July 1877, Mr. Snape sent a letter to Mr Saunders as Framilode lock keeper, that he must warn boys who were in the habit of bathing at Saul Bridge that they should not do so. He further ordered Saunders to go to Winfields in Gloucester and purchase some rope and a lifebuoy with Stroudwater Navigation inscribed on it, to be sent to Mr. Peyton. Besides the duties of a lock on a tidal river and all the boat traffic involved, he would deal with finding buyers for the withy that grew by the canal. He had to collect rents from tenants and those who owed money for having their barges on the canal as at one time, only two had paid and warn them they would not be allowed there should they fail to pay. The same request applied to owners of small boats.
In December 1882, Mr. Snape requested details of the thickness of ice on the canal, sometimes he asked for details and sizes of vessels. When Perseverance was in danger of sinking in Framilode Pound, Snape wanted to know why he had not gone to Saul Junction to drain water and try and find the cause and ordered him to go at once and examine banks for leaks and report to Mr Fallows. Snape wrote and told the lock keeper that he thought he was spending too much of his time in the house and warned him what would happen if he did not attend to his duties. One summer, Saunders had to get names and addresses of men fishing without tickets on Sundays between the Junction and Whitminster Lock. When there was a stoppage planned, he had to make sure that boat and bargemen knew the details. 1887 proved a difficult year for the lock keeper and when he became ill and made a claim due to illness, he was ordered to attend a committee meeting of the company at Stroud in August 1888. A substitute was needed for Saunders. By October, Snape was writing to Mr. Fallows to ask him how Mrs Saunders was and to tell him that Pockett had possession of the house.
Richard Pockett
This man is reputed to have spent 22 years of his life working on the navigation but made his reputation at Framilode. He leased a cottage at Framilode in 1878 and had moved into the lock house by 1889. In April 1889, the vicar of Framilode urged the necessity for a post office at Upper Framilode and it was in place in Pockett's time using the lean-to on the end of the house near the road. By 1898. Boat traffic was less and wages were reduced and Pockett's wages went down from 13 shillings to 10 shillings.
Richard Pockett, former tidesman, died on 25th November 1910 leaving a widow and a grandson Leonard Pockett (21) a gardener by occupation. He could never have imagined that one day, Leonard would purchase the entire premises where his grandfather and many other men had toiled. The company allowed Mrs Pockett to continue in the house for a time and then she moved into a neighbouring property - wording used was that she took 'the cottage'. She asked for a rent reduction which was not granted.
James Harris
James Harris became the next lockkeeper/tidesman at Framilode, he knew the district and the River Severn very well. Mrs Fanny Pockett had been doing the work her late husband Richard had done. Harris was a former ship's carpenter and one who knew everything about the countryside and nature. He knew local poets Harvey and Gurney and was the inspiration for Gurney's poem The Lock Keeper. The two young men bought a small boat from Harris and regularly used it to row down the river from Minsterworth to Framilode, two villages that meant so much to them, they both served and suffered in World War One. Gurney would go to Framilode and stay with Harris and his second wife to ease his troubled mind and enjoy their company in peace and tranquillity.
Harris had lived in Frampton-on-Severn with his first wife Helena Daw, the daughter of a Severn and coastal trow captain. She died in 1905. He regularly walked the towpath to have a drink in the Ship Inn, just up the canal from Framilode Basin. Fred and Sarah Poyner kept the inn and Sarah's niece, Ellen Beard known as Nellie, lived with them. James Harris and Nellie were married just before he took over at Framilode in March 1911, she was 44 and he was 49.
For many months from 1914 - 1915, the love of his job and place was shattered due to a Framilode man named Brocher and a vessel owner named Wood from Westbury-on-Severn. Brocher claimed to be able to ferry Wood across the River Severn and be able to deposit him on company land at Framilode Lock. If they found the lock gates padlocked, they hacked the locks off a number of times and Harris had to put new ones on again. The culprits claimed their rights according to an Act of Parliament dating to the time of Henry VIII and Harris believed he was doing his job well. Percy Snape, chief clerk at Stroud did what he could. Brocher continued to use company land until the 1930s.
In May 1915, Harris applied for an increase in his wages as prices rose due to the war. One shilling extra a week was agreed on. In January 1916, he asked the company again for a shilling to make his weekly wages 13 shillings and for his house rent to be free. The following March he asked for two shillings and the use of a small paddock adjacent to the company's warehouse and be able to cultivate the paddock during his working hours, he also asked if he could be allowed to do other work for the time being beyond his job, without his wages being deducted. It was agreed. for the time being as a war concession. The concession was renewed in February the next year (1918), and he was allowed a lamp and oil. It was a hard time for everyone. James Harris died in April 1918 at the age of 57 years, and was buried in Framilode churchyard. Nellie Harris died in Gloucester in 1945 aged 82 years.
Leonard Pockett
Following the death of Harris in April, the clerk of the company wrote a letter to Canal Control at The Strand in London for the release from army service of Leonard Pockett. Consent was given, but he was technically still in the army with the rank of Corporal. In September 1919, he reported to Horfield for his demobilisation, and returned to Framilode to become tidesman, lock keeper and lengthsman where his grandfather had been before him. He received the usual wages for lock keepers of ten shillings a week. He agreed to further duties and a wage increase. He was entitled to War Bonus and in 1920 his weekly income had increased to 25 shillings. The company allowed him to have the Lock House rent free and tax free and declared that if they rented the house to any other tenant, it would be worth £12 a year. Leonard Pockett became the Postmaster at Framilode.
By this time, Framilode had become a quiet backwater with only one cargo a month passing through, and use of the lock ceased in the mid 1930s. Remarkably Pockett continued working for the Company until he retired in 1962 when he was about 73 years old.
A Framilode school girl born in 1935 told the writer that she remembered 'Lenny' Pocket very well, also his wife who ran the Post Office which was also a shop where all sorts of items could be purchased. Framilode children thought it was great fun to get in the nearby telephone box and call the Post Office's number and make a nuisance of themselves to Mr and Mrs Pockett. This was probably about the time that Mr Pocket had bought the Lock House, warehouse and basin and land in 1955 for £1,000. Leonard Pockett died at the age of 80 in 1969 - he must have worked for the company longer than any other man at Framilode.