William Hill, William Jacob and the Salt Trade 1795-1808
Diana Crane reveals how two men dominated a boom in the salt trade on the Stroudwater Canal during the Napoleonic War.
Salt Trade on the Canal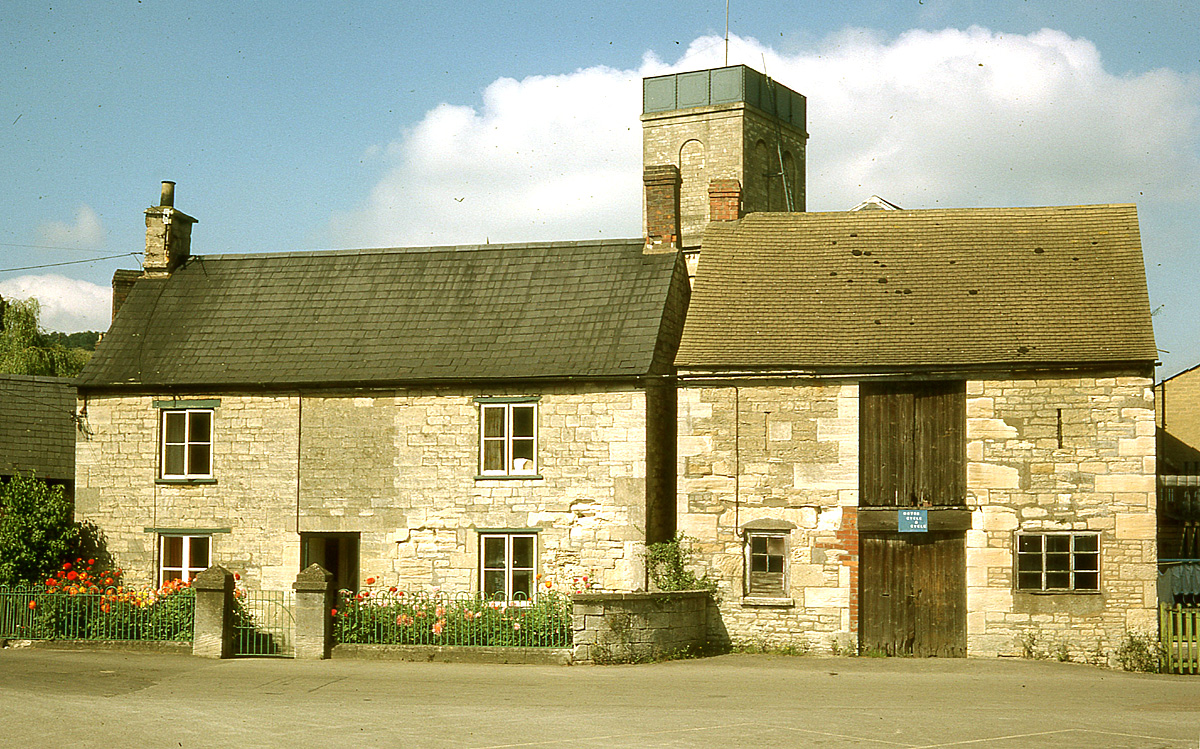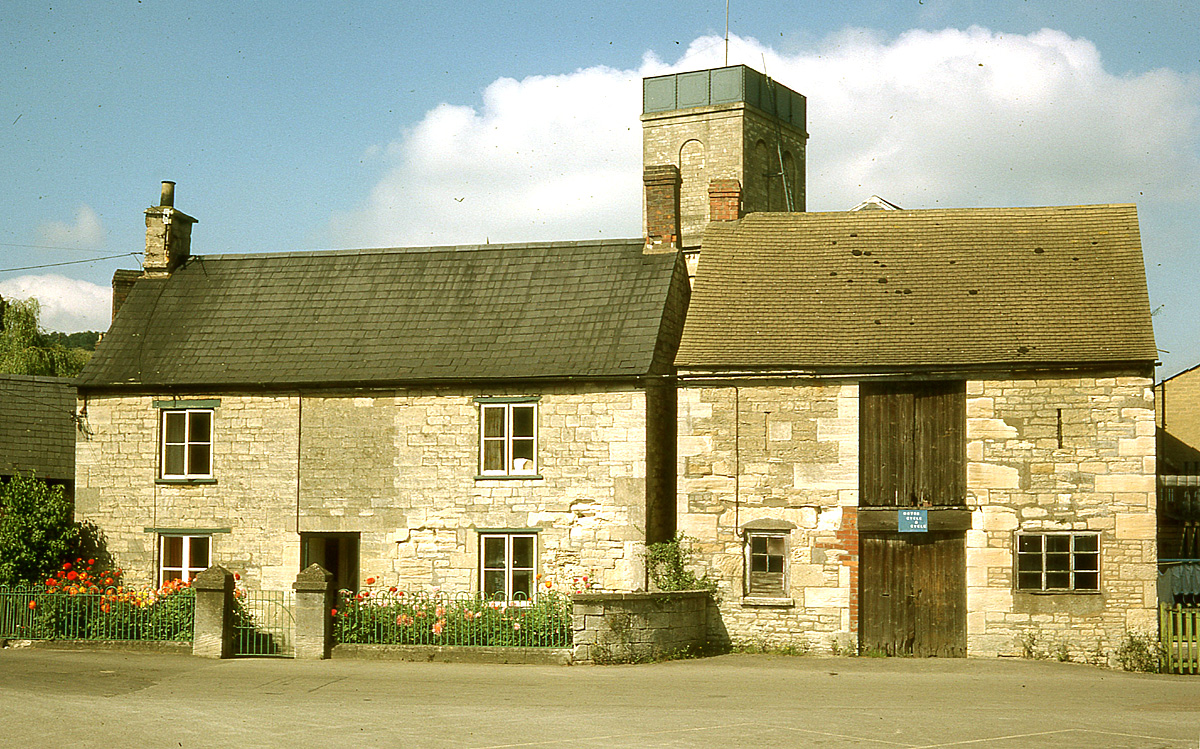 An early pamphlet promoting a navigable waterway in Gloucestershire between Stroud and the River Severn in 1756 gives great importance to the trade in salt, which is prioritised even over coal (1). In making a point in favour of the scheme, the writer says 'Hereby the heavy Burden which Land-carriage lays upon many of the Necessaries of Life may be prevented, more especially on heavy Goods, such as Corn, Salt, Coals, &c.' before listing twenty-two other trade categories. Once steam power was introduced to Stroud in the 1800s, the order might perhaps have been reversed.
The salt referred to here is common salt, which was needed in every community. Quite apart from its importance in improving the taste of food, its antiseptic properties were appreciated, and it was essential and used in large quantities for the preservation of food, especially meat, as well as being an essential food supplement for herbivorous livestock and for people eating a diet containing very little meat. It was also used as a 'manure' or soil improver: the sodium in salt displaced potassium from potassium compounds and this could improve crop yields by up to 20% in the short term. The trade was taxed and was an important source of government revenue. The tax was applied at the source of production, but the cost was passed on to the consumer. As with petrol and whiskey today, the tax was many times the cost of production, and as salt was an essential for everyone, the cost was borne by the population at large. The salt tax only ended in 1825, when the use of salt in industry had increased greatly.
The main source of salt traded on the Stroudwater and Thames & Severn Canals was Droitwich, where salt was extracted by boiling water from saline wells, probably since Roman times, certainly from the mediaeval to early modern period. Initially it was transported by pack animals in various directions on well-recognised 'salt ways': salt for London was taken over the Cotswolds to Lechlade and transferred to boats there. By 1770, Brindley had upgraded the River Salwarpe to a canal, connecting Droitwich to the Severn, to Bristol and potentially onward by sea.
Once the Thames & Severn Canal opened in 1789, salt could be loaded on to barges in Droitwich and brought directly via the Severn to the Stroudwater Canal and on to Brimscombe Port. Most Severn barges had to discharge their cargoes there because the locks to the east were built to suit the established longer and narrower barges that traded on the upper Thames. It was these barges that carried the salt on to London. To facilitate the transshipment, in 1791 the Thames & Severn Company built a special warehouse at Brimscombe which had heated flues built into the walls to keep the salt dry (2). This building still survives.
William Hill
In the 1790s and early 1800s William Hill was by far and away the major importer of salt up the Stroudwater Canal: others brought smaller amounts to wharves up to Wallbridge but the early tonnage books show that Hill received 95% or more of the salt taken to Brimscombe. Part of this traffic would have been for local consumption, but the bulk was probably sent on to London.
William Hill was a Cirencester man, described in 1791 as a wheelwright and salt merchant. In addition to salt, he also received coal and other goods which we are not concerned with here. He was baptised in Cirencester in March 1750, the son of William Hill. In 1786, he married Sarah, the daughter of Edward Croome, by licence – both were living in the parish of Cirencester. The witnesses were Elizabeth Clutterbuck and Elizabeth Richardson – all parties signed the register in an educated hand. The Croome and the Clutterbuck families were businessmen and property owners, so Hill was well connected. In 1796 Hill was noted as a subscriber to Jones English system of book keeping, by double and single entry (3). Properties owned by William Hill in 1807, at the end of the period we are interested in, show he was concerned with salt production as well as trading. These properties comprised a house in Cirencester; property at the lower end of Dyer St; 'tan pitts' and premises bought from Robert and William Croome; a house in Quay Lane in Gloucester; Hill's Wharf in Cricklade; 15 acres of arable land in Lechlade; a building used as a counting house in Droitwich with two pans used for making salt from the adjacent brine pit and the Fire Engine used for working the pans; premises at Nutshalling Hants and a piece of land used as a coal yard in Cricklade (4).
War Breaks Out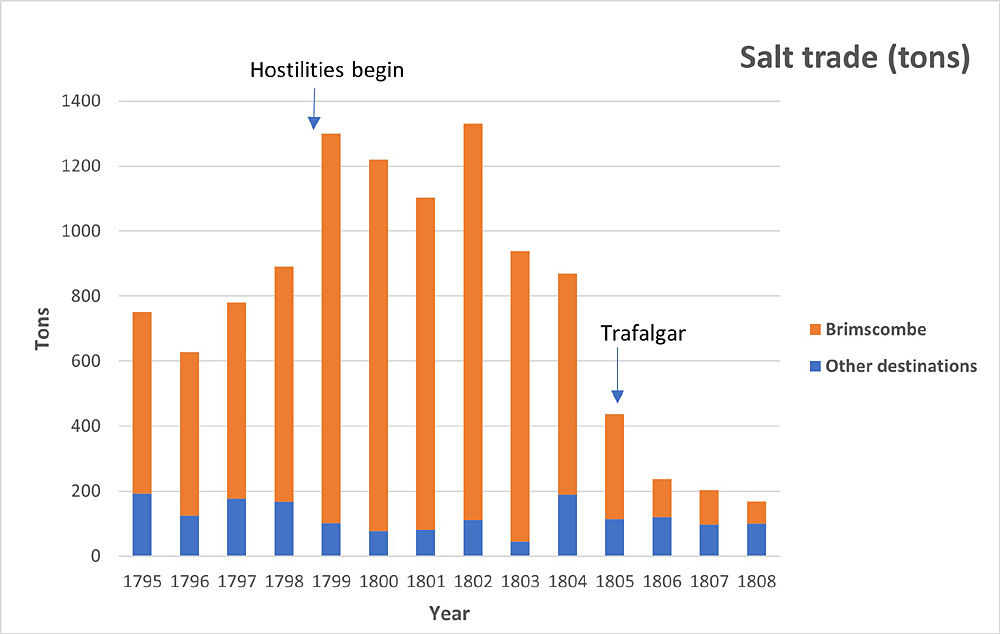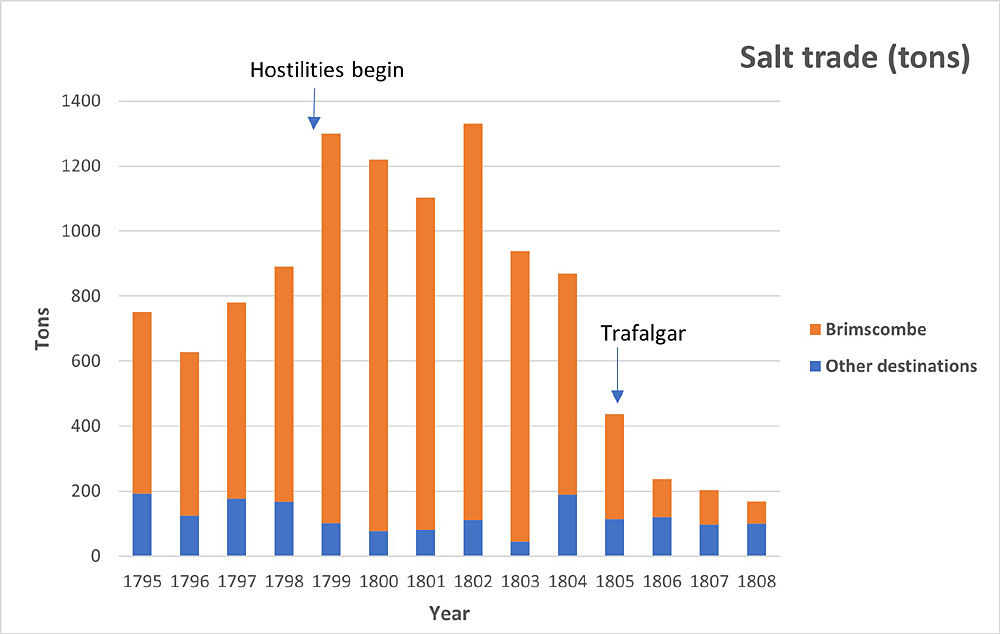 Tension between France and Britain had been rising steadily in the late eighteenth century, and in 1799 war with Napoleon broke out. This had a major deleterious effect on trade by sea: not only was there a risk of ships being taken by enemy vessels with loss of the cargo, but also the need to expand British naval forces dramatically led to a major recruitment of experienced sailors, along with conscription of the unemployed, sometimes forcibly by press gangs. All of this greatly disturbed coastal shipping and enhanced the desirability of transporting cargoes by canal instead. The graph shows the effect on the Stroudwater salt trade in the time of the most intense naval conflict on the European station.
William Jacob - Early Years
In 1799, a new name appears for the first time in the salt trade to Brimscombe. In that year, William Jacob imported 40 tons, nothing in 1800, 176 tons in 1801, 95 in 1802, 93 in 1803 and then no more (5). In themselves, these figures are not particularly impressive but a further investigation of William Jacob reveals a wider story.
William Jacob must be one of the most interesting, active and accomplished men ever to have traded on the Stroudwater. Apart from his trading activities, which extended far beyond salt, he was a scientist, a pioneer statistician and economist, a politician, an author, a civil servant and an agriculturalist, who lived a long and very active life (6 and 7).
William Jacob was born around 1762. Little trace of his early life has been found, but William himself provides a single clue. In his eighty ninth year, shortly before his death, he filled in his 1851 census return in an exemplary fashion, as befitted a man who pioneered the collection of national statistical information. In this he gives his place of birth as Dorchester, Dorset. Examination of the baptismal records for Dorchester reveals that there were a number of Jacob families in the town and at least one other William of similar age but the family that best fits all the circumstances are John and Rebekkah Jacob whose son William was baptised on 4th May 1763 in the Pease Lane Presbyterian church in Dorchester, of which they were active members. Their other surviving son John was baptised at the same church in 1761 and a sister Martha followed in 1764. Dorchester at the time had an excellent endowed school open to all boys born in the town, which offered a good education up to the age of 16. We cannot be sure he attended, but there may also have been non-conformist schools. The family's nonconformity would explain the fact that William did not attend university.
Between 1790 and 1811, his elder brother John and William Jacob were known as warehousemen and linen merchants, trading from London. They had premises in Newgate Street and warehouses in Upper Thames Street. In 1791 William was resident in the London parish of St Nicholas Coles Abbey, when he married Martha Stuckey in Langport. His father-in-law Samuel was himself a trader before founding a bank for the convenience of his customers. This proved very successful and eventually was one of the banks which merged to form the National Westminster Bank. William Jacob's family lived in London. They had at least four children who survived to adulthood, Edward (1796), Lucy (1798), Elizabeth (1800) and Mary (1803).
William Jacob and the Salt Trade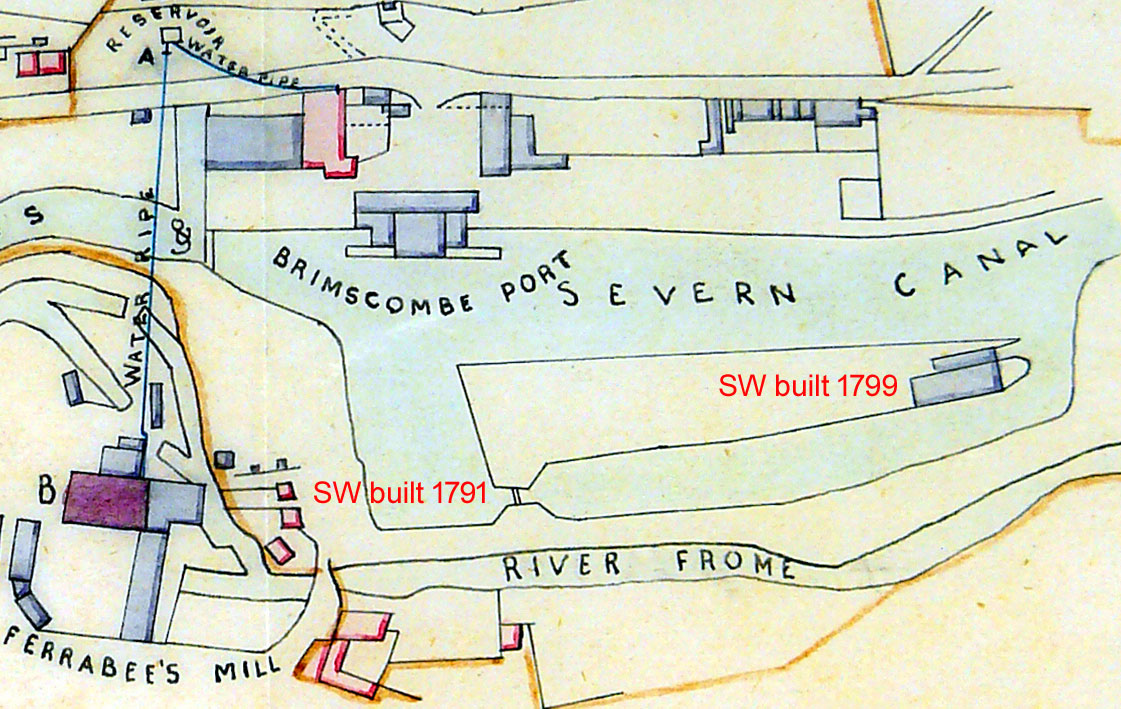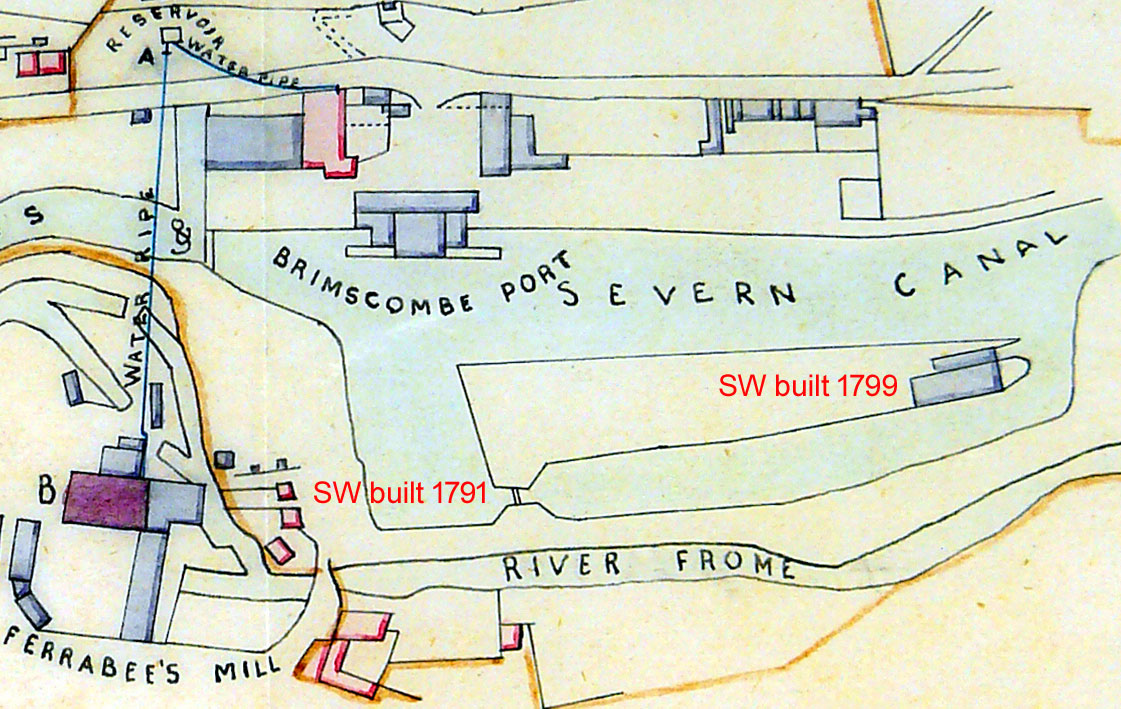 The coming of war must have sharpened Jacob's interest in trading to London by canal. In 1799, in partnership with his father-in-law, he built a large salt warehouse on the eastern end of the Island at Brimscombe Port (9), and he started trading from the 'Droitwich salt warehouse', Upper Thames Street (10). This must have involved far greater quantities of salt than the relatively insignificant amounts he moved up the Stroudwater personally, and it seems very likely that Hill and Jacob were cooperating in moving the salt to London and disposing of it there.
Trade made William Jacob's fortune and enabled him to marry well, but it was only one of his occupations. He had a particular interest in statistics, understood at this time as the collection and analysis of information concerning the workings of the state. Along with Malthus, the population theorist, and others, he was a member of the London Statistical Society (7). He appears also to have been a valued colleague of William Huskisson. Huskisson is now mainly remembered for his misfortune in being the first person to be killed by a passenger train, but he was in fact a prominent politician and the leading money theorist of his time. In 1806 he was Secretary to the Treasury and it may have been through his influence that William Jacob entered Parliament as member for Westbury in that year (6, 10).
Disaster Strikes
Another reason for believing that William Hill and William Jacob may have been connected in trade is that both seem to have suffered a severe reversal of fortune in 1807. The Battle of Trafalgar in 1805 had finally secured British naval dominance in European waters with improved safety for shipping by sea. Once the danger to shipping at sea had diminished, salt imports along the canal plummeted and the trade to London returned to the sea route. This led to William Jacob voiding his lease of the land for his warehouse at Brimscombe in 1805 (11). Two years later he despatched three ships laden with cloth to South America, and in the ocean off Lima, Peru, they were captured by the enemy. The loss proved catastrophic to Jacob: in the aftermath he was accused though not apparently convicted of insurance fraud. In the next few years, he travelled to Spain, where the British forces were gradually driving out the French, but he did not succeed in recouping his losses (6).
Jacob still retained an interest in the salt trade, as in 1809 Hansard reports that he contributed to a debate in Parliament on the duties on salt. Mr. Jacob 'entered into a chemical analysis of the nature of salt and shewed, that the slower the process of drying the salt the slower the evaporation, the stronger the salt , and, that of course, if the process by fire was contrived to be as gradual as that by the sun, he did not see that the salt made by the fire, might not be as serviceable as the foreign bay salt'(12). At this time, he was also an Alderman of the city of London (13). However, in 1811, he was declared bankrupt and retired from his positions as Alderman and MP. He retreated to his country property on the Surrey/Kent border, to farm and pursue his other interests.
Meanwhile William Hill was also in difficulties in 1807 as he had to mortgage all of the property listed earlier in this article to banker Joseph Pitt for £7000. Hill continued to trade on the Stroudwater for a few years, receiving coal, copper and very modest amounts of salt, but in 1810 all of his property in Cirencester, Cricklade, Lechlade and Gloucester was sold to William Cripps for five shillings (4) and his name disappears from the tonnage records. Thus ended the glory days of the London salt trade on the Stroudwater and Thames & Severn Canals.
Aftermath
After the salt trade collapsed, the two salt warehouses at Brimscombe were used for other purposes, and the one built by the Thames & Severn Company is now a Listed Building. William Hill (junior) is listed as a Coal Merchant, The Wharf, Cirencester in 1822. This may be our man, as his father was named William and his own son William was buried in Cirencester in 1808. William died in 1823. Much more could be written of William Jacob who lived on another forty very productive years, but none of this relates to the Stroudwater and Thames & Severn Canals.
Sources
1. Gloucestershire Archives, D1180/5, 'A Scheme to make the River Stroudwater Navigable' by John Dallaway, 1755.
2. Gloucestershire Archives, TS/155a, Land & Petty Ledger p155.
3. Ancestry online.
4. Gloucestershire Archives, D181/III/T62 Deeds 1717-1873.
5. Gloucestershire Archives, D1180/4/1-2, Stroudwater Canal tonnage books 1795-1807 available at stroudwaterhistory.org.uk.
6. Oxford Dictionary of National Biography, William Jacob (1761/2-1851). Available online.
7. J R Statist Soc A (2002) 165 Part 1 pp173-185. Transactions of the Statistical Society of London (1837). Available online.
8. Gloucestershire Archives, GA D2169/8, a dispute about water rights c1865.
9. Gloucestershire Archives, TS/210/2, indenture of lease 1799.
10. The History of Parliament: the House of Commons 1790-1820. Available online.
11. Gloucestershire Archives, TS/163, Thames & Severn Canal Co minutes of the Committee of Trade.
12. Hansard, 1807-1809. Available online.
13. The Aldermen of the City of London Temp Henry III-1912. Originally published by Corporation of the City of London, London, 1908. Available on British History online.