Missing Channel and Aqueduct
This length of canal and Whitminster aqueduct were filled in during the early 1970s as part of a flood alleviation scheme. (For sources, see end of page.)
Missing Channel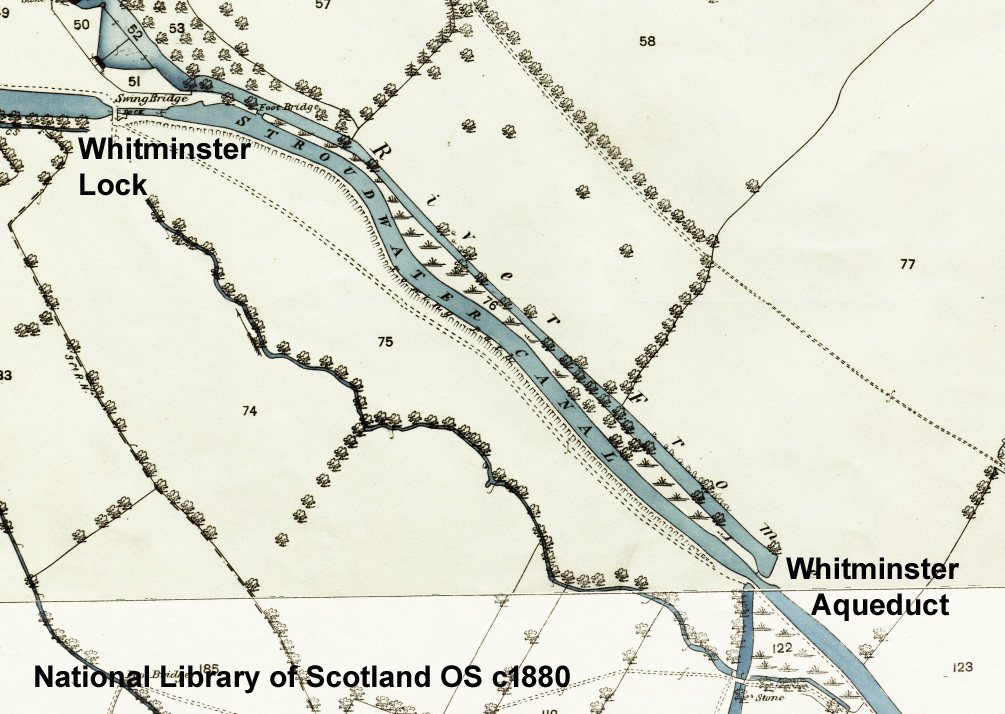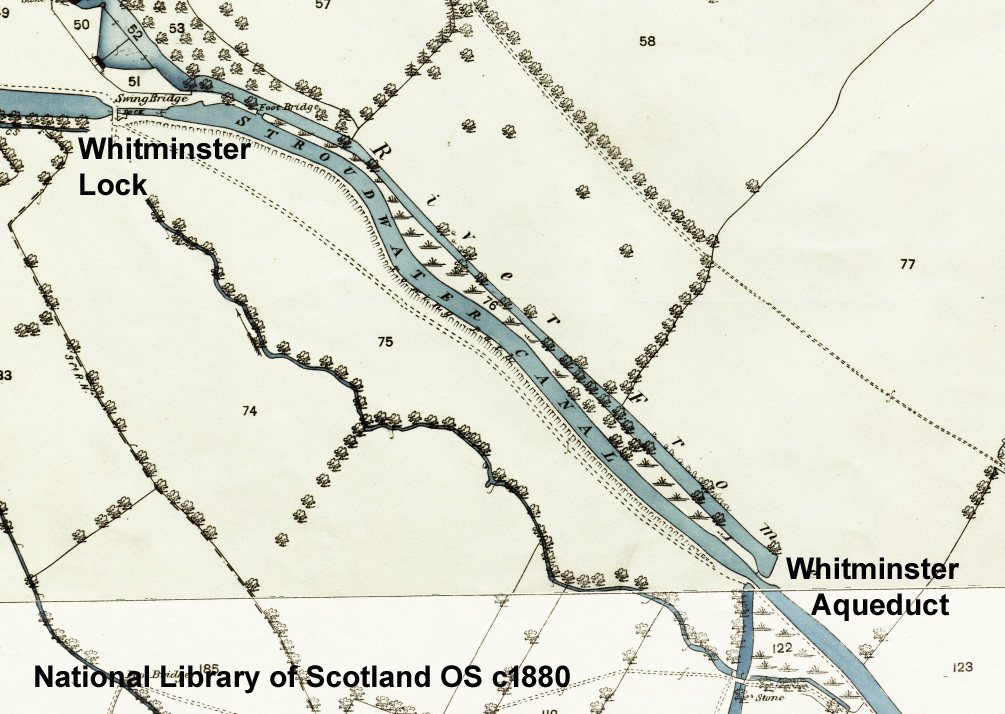 The former canal channel along one third of a mile south east from Whitminster Lock ran closely parallel to the River Frome, with withy trees in between and a significant embankment on the towpath side. Where the two channels crossed, the river was carried under the canal by what was called an aqueduct but would now be described as an inverted siphon culvert.
Where this length of canal has been cleared away, the current restoration project is planning to make use of the river channel.
Whitminster Aqueduct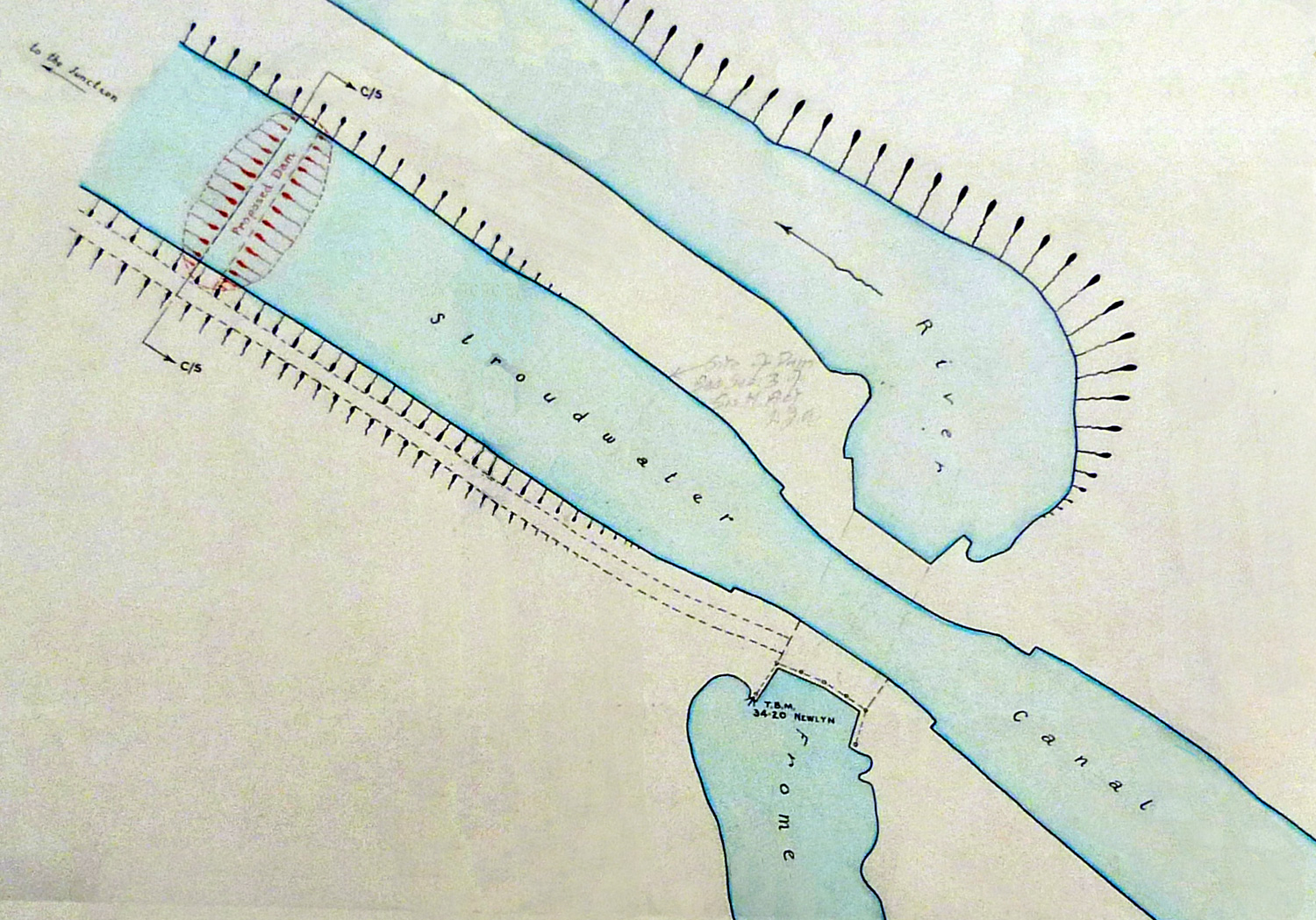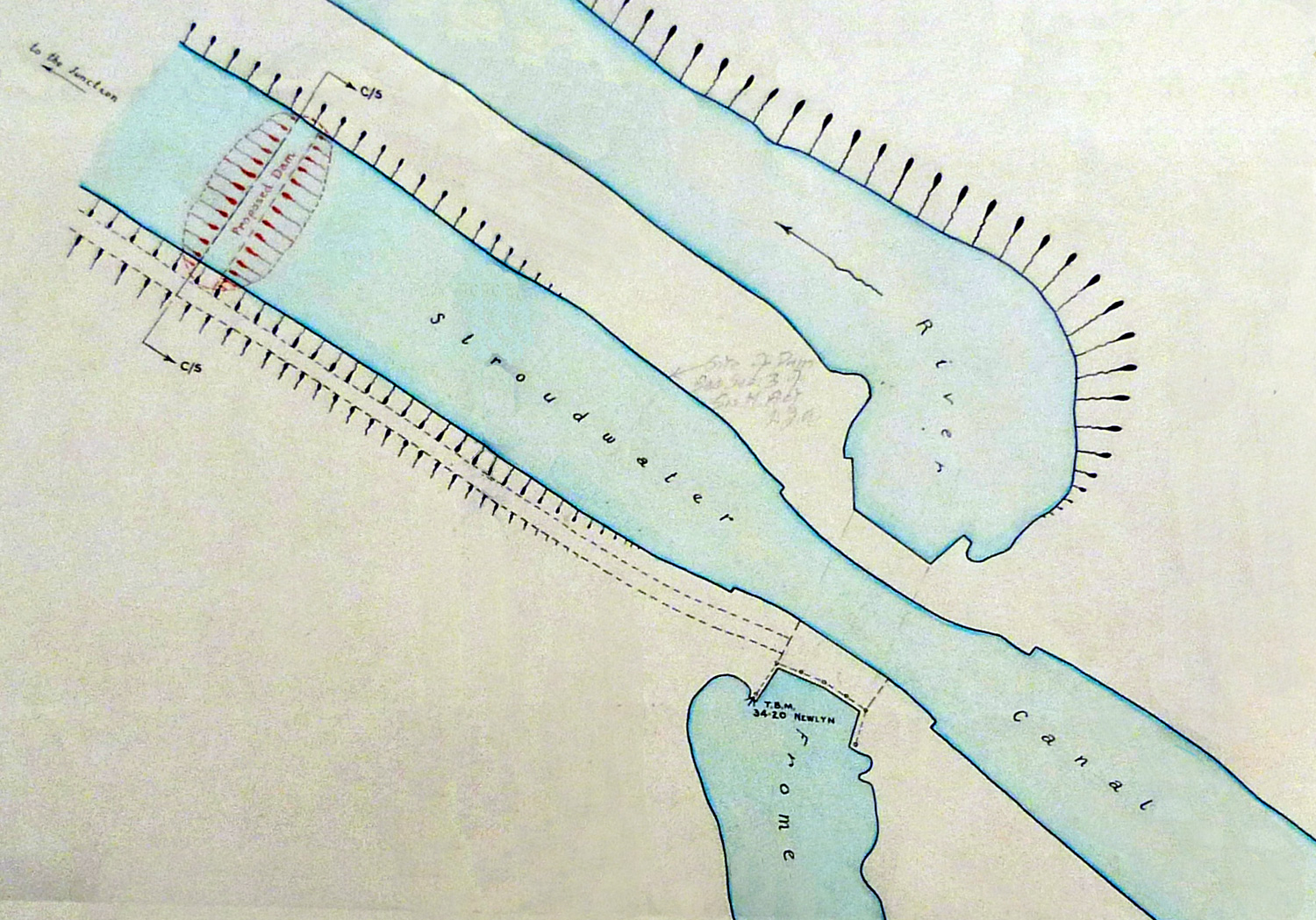 To form the aqueduct, the Stroudwater Committee authorised two trunks in 1779, each to be '5ft wide by 4ft high in the clear and made with good elm plank not less than 3½ inches thick'. As the river and the canal were nominally at the same level, these trunks were evidently installed between brick-lined wells on either side of the canal.
The wooden trunks inevitably required maintenance and occasional replacement - until in 1843 a failure was so bad that river water leaking into the canal caused 'violent irruption' at the surface. The old structure was then replaced by two blue brick culverts: '7ft diameter at the mouth and 5ft 6in at the centre'.
Aqueduct Disabled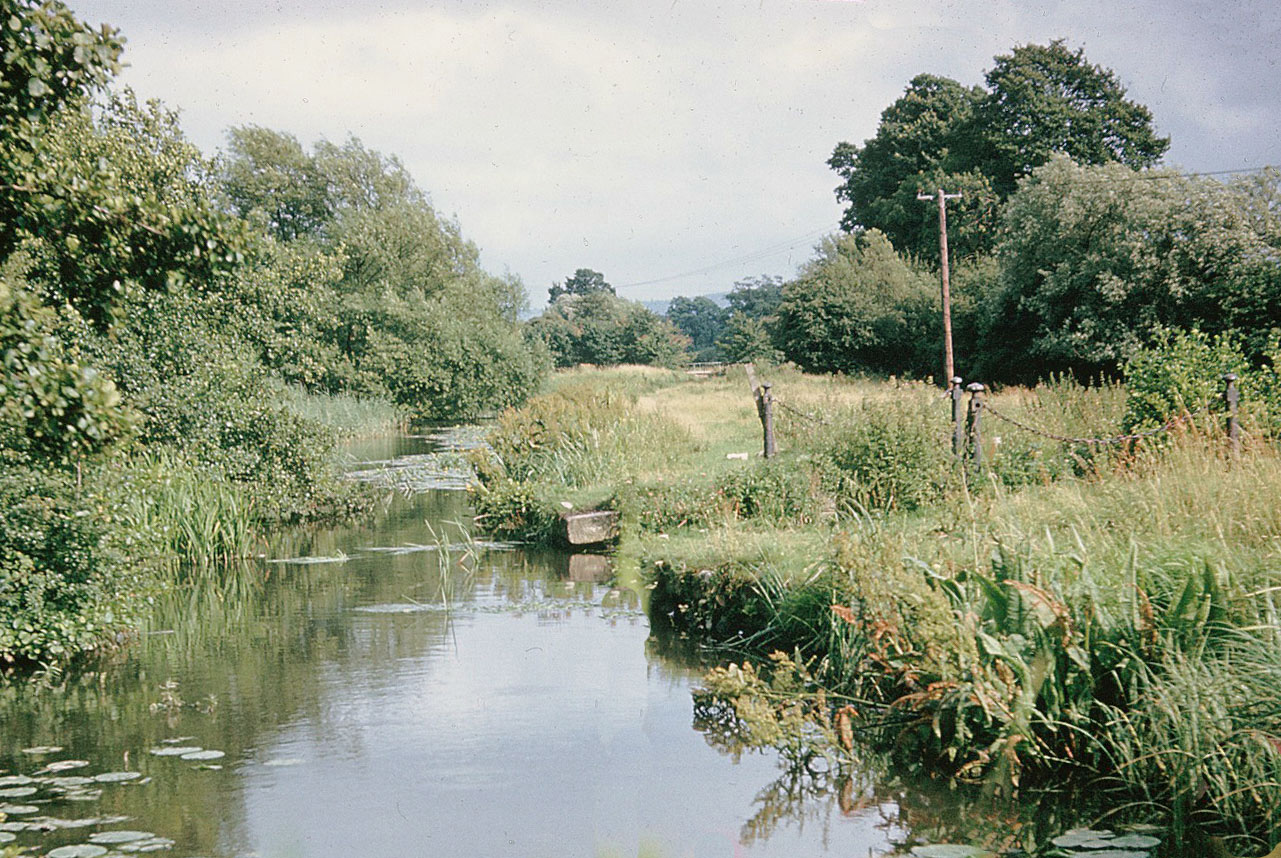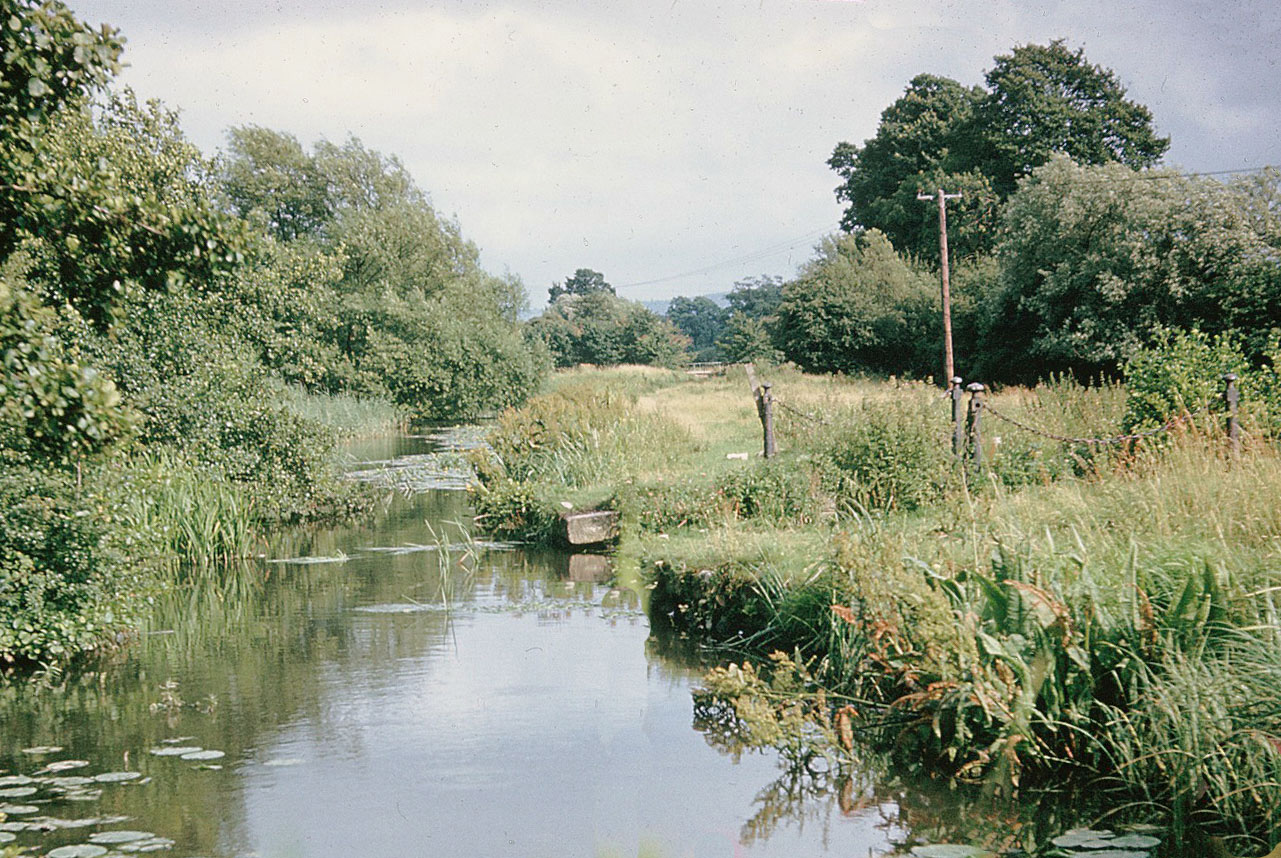 After the canal was closed in 1954, the British Transport Commission installed a dam (shown in the plan above) to isolate the section of canal that was being used to supply water to the Gloucester & Sharpness Canal.
At the same time, the aqueduct was opened up to improve the course of the river and to allow surplus water from the canal to flow into the river. Posts and chains alongside the river channel can be seen in the image.
Sources
For installation of original aqueduct, see D1180/1/1 p268-293.
For replacement aqueduct, see D1180/1/4 p252-324; dimensions in D1180/9/4 p239.
For disabling the aqueduct, see D1180/acc12710/box1/1, Jul 1955.