Bristol Road Wharf
The site of the wharf can still be seen to the west of the A38 Bristol Road although the two buildings have been much altered in recent years. (For sources, see end of page.)
Bristol Road Wharf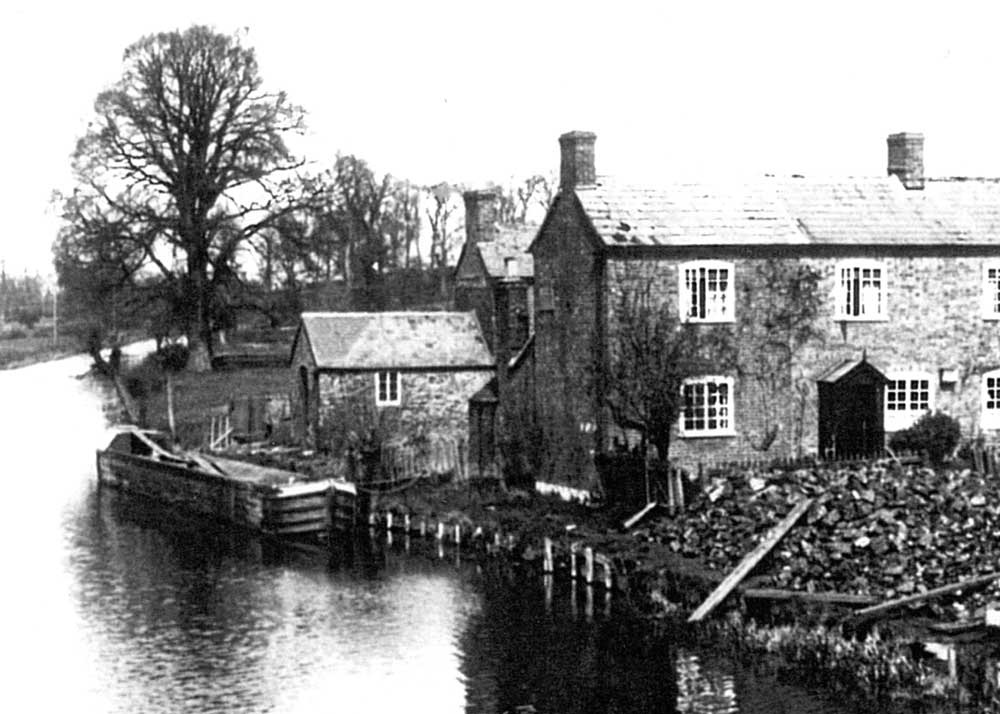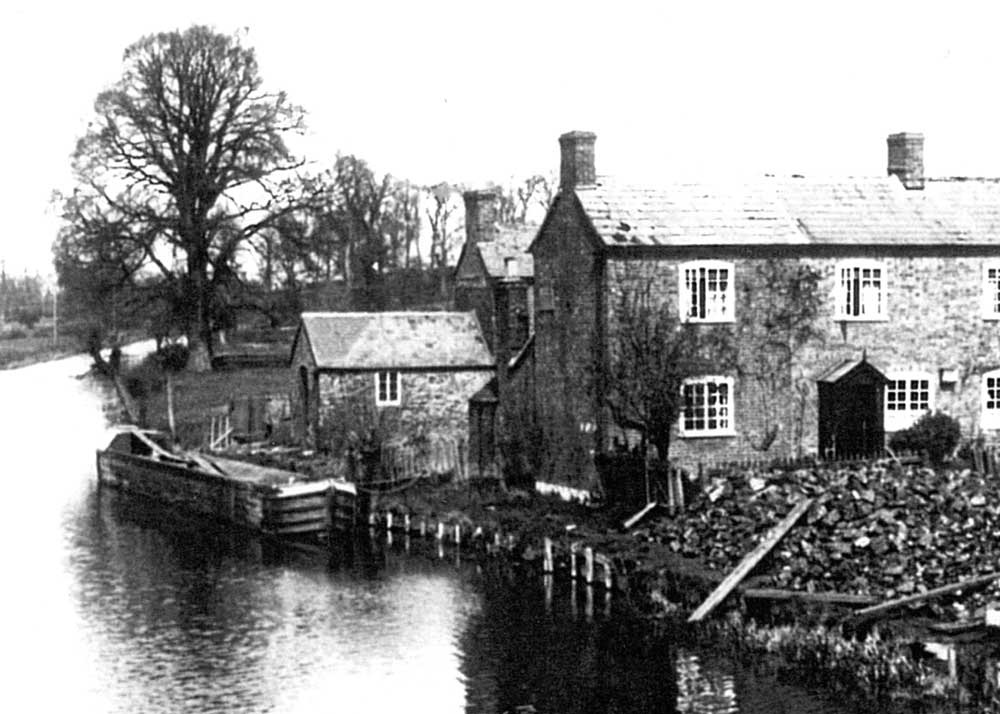 This wharf was the first to be opened on the Stroudwater Canal when construction from Framilode reached this point in 1776.
The Wharf House (nearer the road) was occupied by a succession of tenants who traded as coal merchants and were paid a small wage to look after the nearby lock. The second house began as a small warehouse for storing perishable goods and was later converted into a house for a Stroudwater Company employee. Both eventually passed into private ownership and have been much extended in recent years.
Trade at Bristol Road Wharf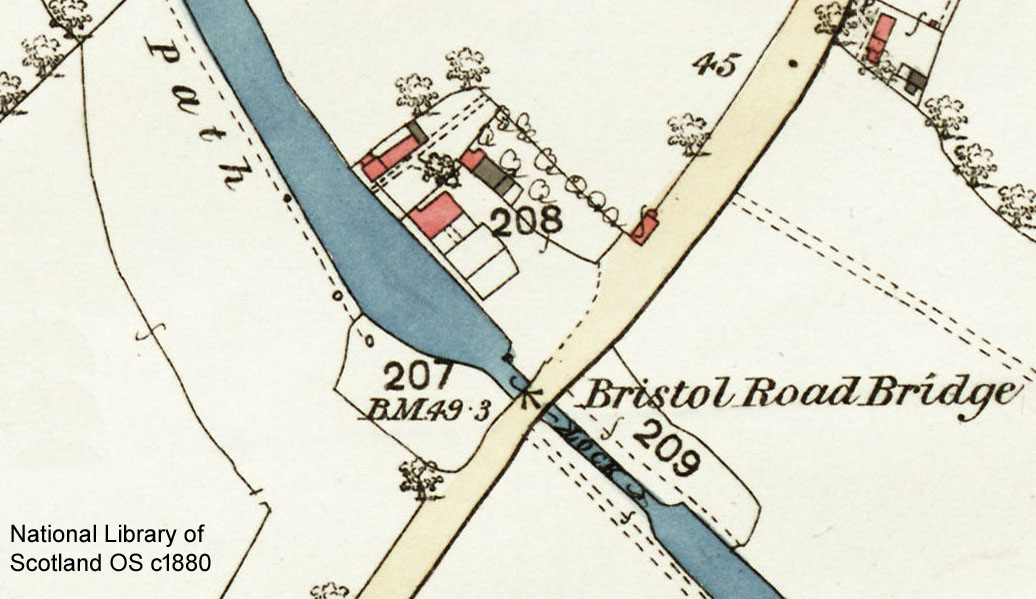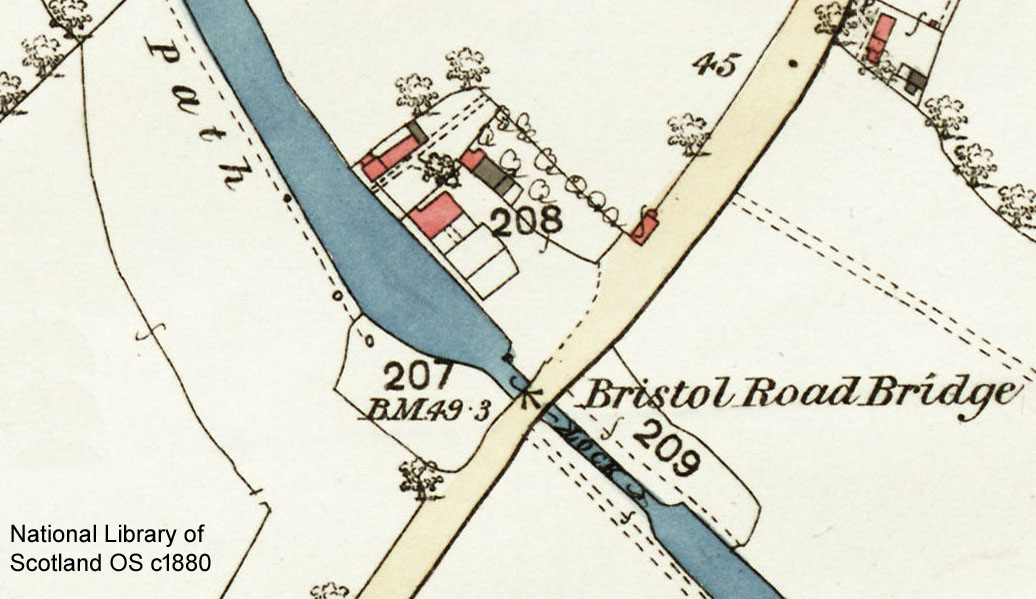 The wharf particularly handled coal and roadstone for the local area. At times the wharf also received special cargoes destined for Fromebridge Mill on the other side of the valley.
The map shows the main yard was divided into pens, and it appears there was also a yard on the south side of the basin. As well as selling coal, widow Elizabeth Critchley traded as a grocer and beer seller for many years, but in 1866 the Company ordered her to give up beer selling and to pay attention to her duties as lock keeper.
By 1875, the District Council was using part of the wharf for breaking stone for use on local roads, and this continued well into the 20th century. Meanwhile tenants of the wharf were still supplying coal to the local area, and this continued after the canal closed in 1954.
Pillboxes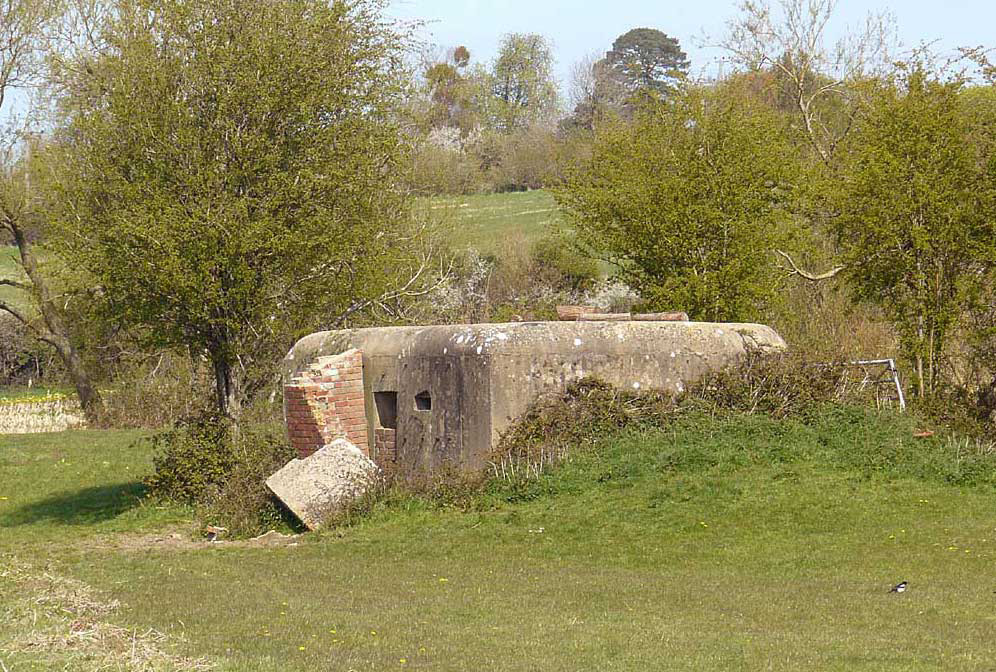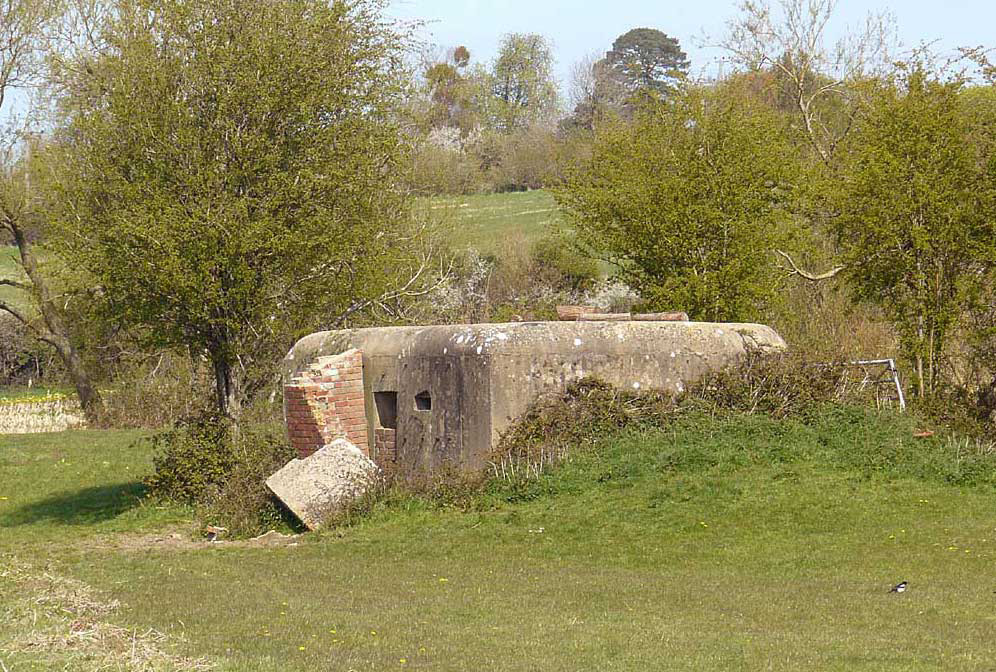 Near Bristol Road Wharf are the remains of a Second World War pillbox built in 1940 when Britain was threatened with invasion. A second pillbox stands beside the access road to Fromebridge Mill.
They were part of Stop Line Green, a line of defensive structures intended to defend the Bristol area from an attack from the east, but a change in government policy made the project redundant before it was completed.
Fromebridge Mill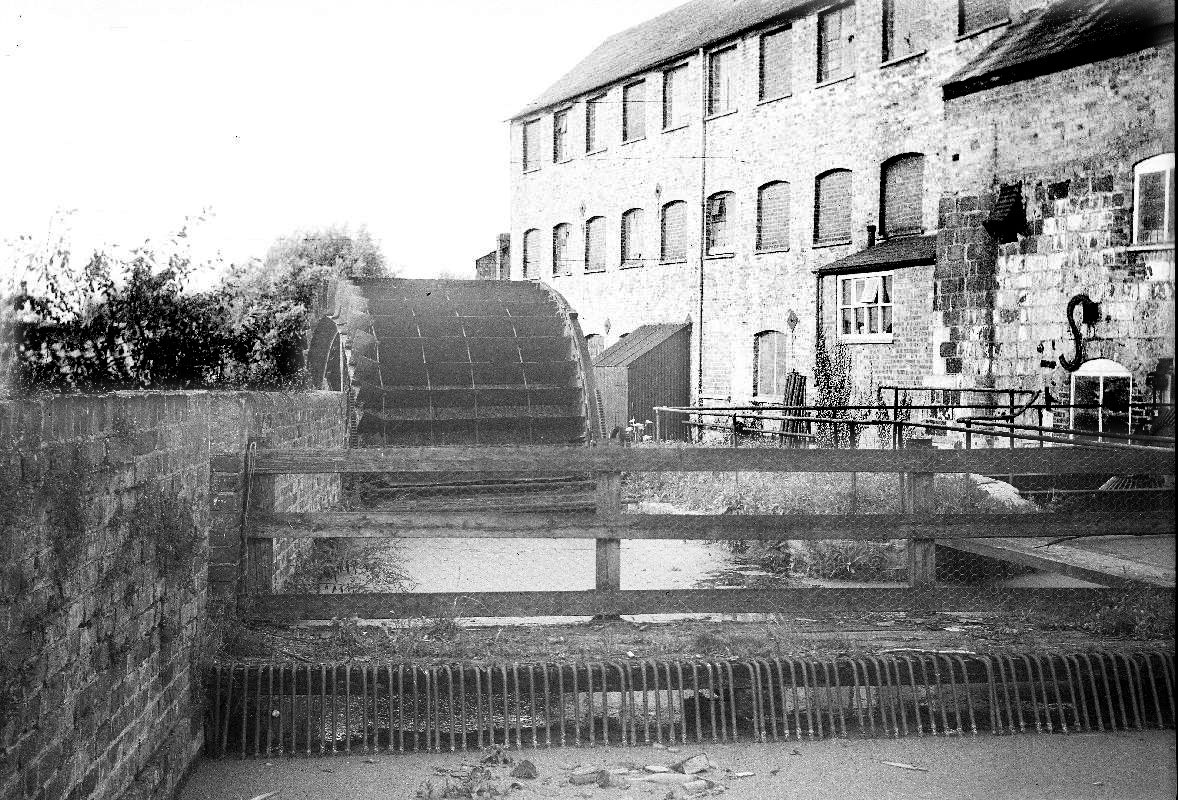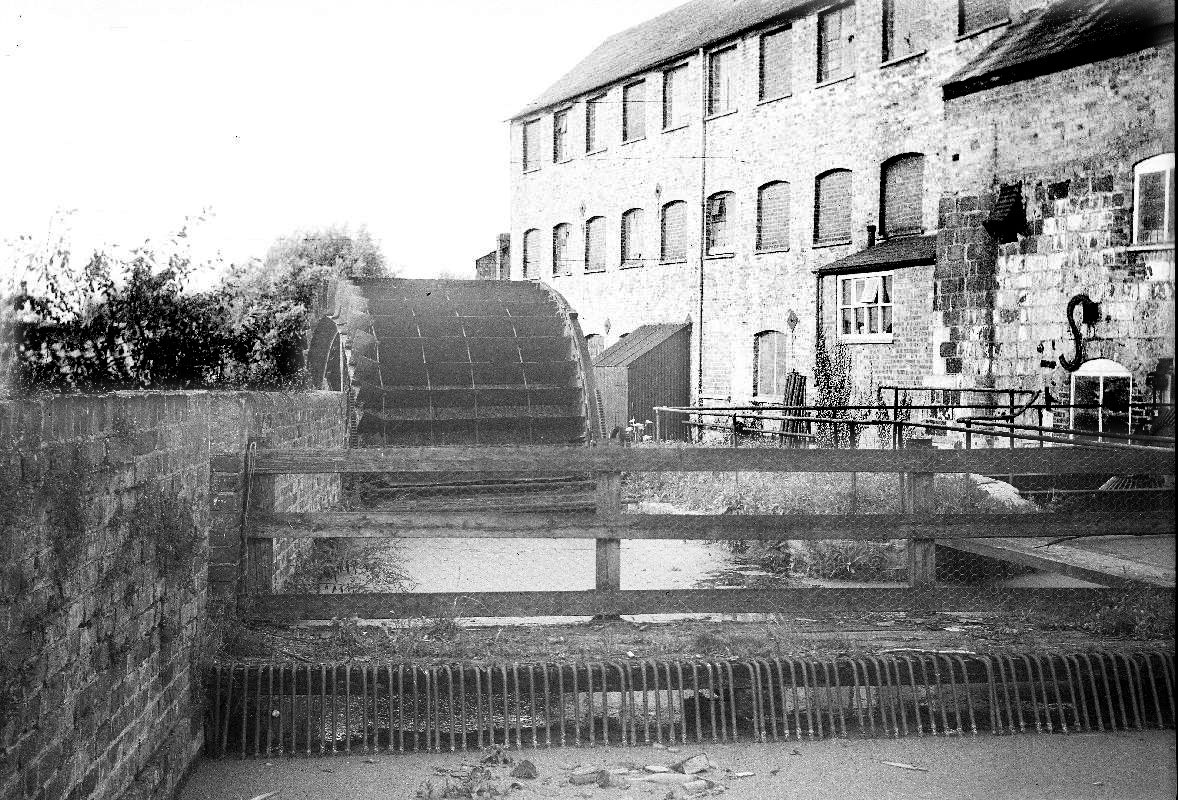 In the late eighteenth century, nearby Fromebridge Mill on the River Frome was at the centre of the largest wire-works in the country. producing iron and brass wire sold for making pins and cards. Cargoes of coal and iron for the site were delivered to Bristol Road Wharf until c1820.
Later in the nineteenth century, the much enlarged mill reverted to grinding corn that was delivered to the wharf, and corn milling continued to 1968. The building is now a restaurant.
Sources
For start of trade at the wharf, see D1180/4/1 17 Dec 1776..
For the buildings and occupants, search this site for 'Bristol Road Wharf'.
For Elizabeth Critchley, see D1180/1/5 p435.
For breaking stone, see D1180/9/4 p453.
For Fromebridge Mill, visit British History Online - Frampton-on-Severn
For early cargoes to Fromebridge Mill, see tonnage book tables on this website.
Fromebridge Mill image from the Gwladys Davies collection (D14791), courtesy of Gloucestershire Archives, digitised by Dr Ray Wilson, glosdocs.org.uk.